The 2021 Tesla Model S Plaid is officially the world's fastest production EV... at the Nurburgring
If there was any doubt as to the performance on tap from the 2021 Tesla Model S Plaid, with its 1,022PS tri-electric motor setup, the fact that it's now the holder of the fastest production electric vehicle lap record at the 20.7km long Nordschleife, Nurburgring, should quieten the naysayers. The Model S Plaid, in stock form, including tyres and yoke-style steering, has set an official lap record of 7m 35.579s with Swedish driver Andreas Simonsen piloting it. 
Tesla CEO Elon Musk also stated that he's aiming for another run, this time in a Tesla Model S Plaid modified to suit the purpose, including with added aerodynamic tools, carbon ceramic brakes and stickier tyres - though he was quick to point out that it would be a third-party setup not from the factory. It's worth noting that the Plaid's record timing, as verified by a statement from the Nurburgring track authorities, betters the 7m 42s record lap time of the 680PS Porsche Taycan Turbo set in 2019.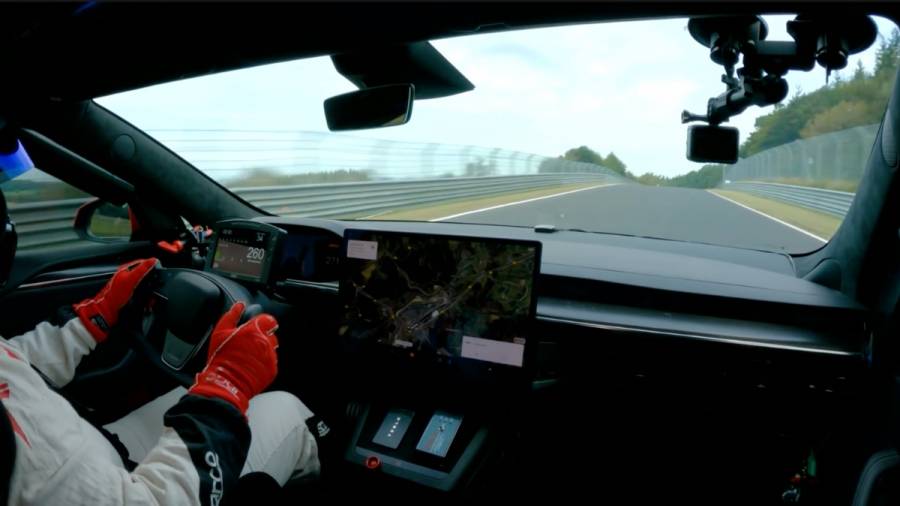 There, of course, stands potential for both Porsche and Tesla to better those times, with the record likely to fall sooner than later. In Porsche's case, the more powerful 761PS Taycan Turbo S hasn't made an official timed run at the 'Ring yet. As for Tesla, later this year an upgrade package consisting of aero wheels and higher-rated tyres will be made available for the Model S Plaid that ups top speed to 322kmph, which might cut a few seconds off the lap time considering the Plaid hits its top speed a couple of times on the 'Ring's long straights. Of course, the Rimac Nevera with its 1,914PS all-electric powertrain is firmly in the running for top honours as well. 
Also read, 
How the 1,020PS Tesla Model S Plaid is rewriting the EV rulebook
2020 Porsche Taycan is the fastest four-door EV on the Nurburgring
2021 Tesla Model 3 Performance first drive review