Tata updates Nano, launches CNG option
2013 Tata Nano
Tata has given its people's car, the Nano an upgrade. The car which was expected to take the country by storm has reported poor sales since its launch. It has had its good months where the sales crossed the 10,000 units mark, but overall Tata Motors has struggled to find buyers for its most affordable offering. Tata realises that it did not position the car correctly and failed to build around the car's USPs like interior room and ease of driving, not to mention fuel economy and low cost of ownership. With the new iteration, Tata Motors intends doing things differently.
For starters, the focus for the Nano now is fun and youthfulness instead of affordability, which is reflected in the car's new advertising tagline – "Celebrate Awesomeness". The Nano is also available with a CNG option now. The engine is the same as the regular Nano but when driven in CNG mode, the engine makes 33PS instead of 38PS. The two CNG cylinders are placed under the front two seats and each is rated at 16 litres capacity. The CNG-fuelled Nano will be in showrooms in a month.
As for the regular Nano, nothing has really changed in terms of styling. Tata has added a few embellishments on the outside nonetheless, to give the car a more upmarket aura. It has snazzier looking wheel covers and couple of chrome strips – one on the bonnet and one on what should have been the tail gate. Yes, there's still no tail gate opening on the Nano.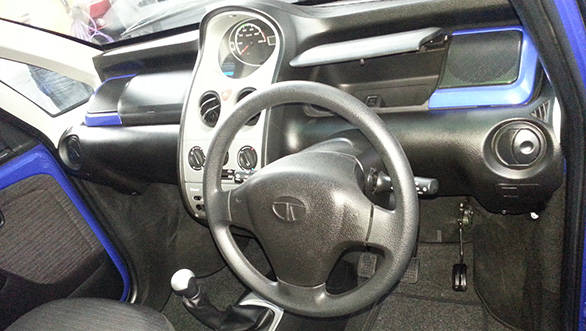 2013 Tata Nano interiors
On the inside, the quality of plastic has improved and there are more convenience and comfort-related features too. There's more stowage space inside the car including new glove boxes, a rear parcel shelf and a higher specced stereo system. The seats have been improved sporting better fabric and cushioning and Tata has also gone in for lighter shades all round the cabin. There are more highlights all round and the steering wheel design is new too, all of which contribute to giving the Nano's interiors a less 'basic' feel.
The Nano retains its 624cc, inline twin engine positioned at the rear of the car. The output figures of the car remain unchanged, with the new-for-2013 Nano producing a max power of 38PS at 5,500rpm and a peak torque of 51Nm coming in at 4,000rpm. The ARAI fuel efficiency stands at 25.4kmpl.
The 2013 Nano continues to be available in three trim levels – Nano, Nano CX and Nano LX. The base Nano is priced at ? 1.5 lakh, ex-Delhi, which is close to ? 4,000 less than the model it replaces.