Super Formula Japan: Narain Karthikeyan finishes sixth at Fuji
The second round of the Super Formula Japan series didn't get off to quite so good a start for Narain Karthikeyan. The Indian driver was plagued with problems from the outset of the race weekend and had to sit out the first 20 minute practice session on Saturday with an electronic issue. He managed to qualify eighth on the grid, but the gap to the front of the pack in terms of pace didn't seem like it could be remedied.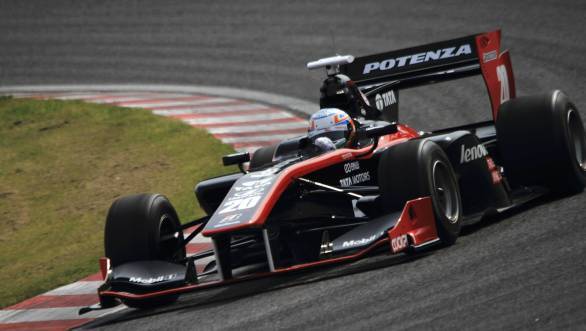 Narain Karthikeyan could do no better than sixth place at the second round of Super Formula Japan at Fuji
Narain managed to start the main race well, slotting into fourth by the end of the first corner. But he had no answer to the pace of the other cars on the grid. An incident that saw him run off the track briefly scuppered things further and Narain eventually finished the race eighth. Race win went to Andre Lotterer, multiple Le Mans winner with Audi.
"From the start of the weekend we've sort of been on the back foot, so a sixth place was actually damage limitation to be honest", commented Narain. "You're bound to have some weekends like this, given the competition and experience most other drivers have in these conditions – but the end result is better than Suzuka where we came back with no points", he continued referring to the incident with Loic Duval which had forced him out of the race in early stages despite having qualified second.
Nonetheless, there were other positives to take back from the weekend. It was the first time Narain had managed to complete a full race distance in the Dallara SF 14, a task he described as more physically demanding than the 2014 HRT F1 car he drove in 2012. "There is an incredible amount of downforce and doing 35 laps is quite demanding so I definitely need to keep training hard to keep up with the competition", he added.
Narain now looks forward to the second round of the Super Formula Series that will also be held at Fuji Speedway between the 13th and 14th of July, 2014.