Smartphone maker Xiaomi could invest in bike taxi app Rapido
Bike taxi operator Rapido could be getting funding from smartphone manufacturer Xiaomi along with other investors such as China's Shunwei Capital. It is being said that the company could get a funding of $75-million which in turn will increase the overall valuation of Rapido to over  $300-350 million, mentions ET report. There are also reports that at the rate in which the starup is growing, it has the potential to raise upto $100 million. Rapido had previously raised $55 million which made the valuation stand at  $150 million from investors like Westbridge Capital, BAce Capital and Nexus Venture Partners. Also, earlier this year, the company raised funding worth $10 million by Integrated Capital from Hong Kong and Nexus.
Rapido was founded in in 2015 by Aravind Sanka, Rishikesh S R and Pavan Guntupalli and has investment from industry bigwigs such as Pawan Munjal, CEO - Hero MotoCorp, Rana Anandan, formed MD Google India, Ankit Nagori, former Flipkart and Kunal Khattar from Carnation Auto.  The bike taxi operator offers its services in Bengaluru, Gurgaon and Delhi. The funds that were raised in the previous round were used in expanding the team and also developing the network. In 2016, Rapido had 400 bikes on its network which they want to increased to 1,000 bikes. Rapido received 50,000 downloads on the month of its launch.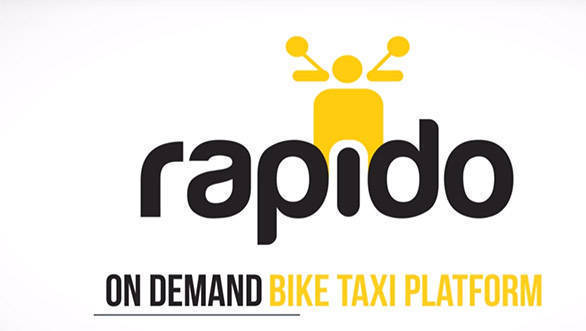 Anyone who has a valid two-wheeler license, owns a two-wheeler with valid vehicle registration certificate along with insurance can enroll themselves as Rapido Captain. The startup has flourished and established its presence in over 70 cities. It also claims to have over one million riders with over ten million customers. Also, all the riders have collectively clocked over 250 million km in the 50 million rides. The app has become quite popular lately as it was doing 2.2 million rides a day in May which has now gone up to 5 million rides per day. What makes Rapido unique is that is also has an option of bike pooling which was done to change the perception towards the riders.
Rapido does not have minimum hours of working for any rider. The idea behind that was to make it convenient for those looking to work as a part time rider for Rapido. The startup is also looking at a model where an idle motorcycle can be used by a rider to do commercial deliveries. Compared to the regular cabs that charge Rs 20 per km, the minimum charges for the Rapido bike app is Rs 10-11. per km. Also, the numbers of cars that are owned by Indians is substantially lesser than the numbers of motorcycles making the latter a more lucrative and convenient option for both the customers and riders. The other two-wheeler sharing apps that are operational in India include Baxi, TuWheelz, Mobile, NOW and MTaxi. Even mainstream cab operators Uber and Ola are offering bike-based taxi services in select cities in India.