Six teams to compete in the Nexa P1 Powerboat race in Mumbai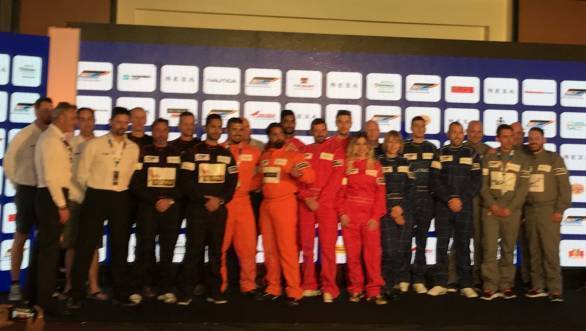 The members of the 6 teams who will compete in the Nexa P1 Powerboat Racing Championship in Mumbai
The six teams competing in the Nexa P1 Powerboat, Indian Grand Prix of the Seas were just announced in Mumbai -- HVR Racing, Lloyd Dolphins, Booster Jets, Ultra Sharks, MoneyOnMobile Marlins and another team which hasn't been named as yet.
CS Santosh will race for the Booster Jets
Each team has two boats which will be raced by a pilot and a navigator. Almost all the competitors are professional powerboat racers from countries like the United States, UK, Australia and Belgium. The two Indian wild card entries -- Gaurav Gill and CS Santosh -- will be competing in different teams. Gill will pilot a boat for team Ultra Sharks while Santosh will race for the Booster Jets.
Gaurav Gill will race for team Ultra Sharks
The event will take place over three days from March 3-5 at Mumbai's Marine Drive. The first day will host the time trials on the 5.2km course, which will determine who starts from pole position in the first race that'll be held the next day.
CS Santosh and Gaurav Gill will compete for rival teams
The winner of a race gets 20 points while those who finish in second and third place get 17 and 15 points respectively. Every subsequent boat will get one less point than the previous one. Race 2 will start on a reverse grid, with the boat which finished last in Race 1 taking pole followed by the other boats in ascending order.
The course for the Nexa P1 Powerboat Race in Mumbai
The boat with the most points after the two races will take pole in the grand finale on Sunday. The winning team will be determined by the total points accumulated over the weekend of all the boats in one team.