Sinhgad Academy of Engineering wins Baja Student India 2016
The Baja Student India 2016 concluded at the Buddh International Circuit  and Team Forza Racing from the Sinhgad Academy of Engineering, Pune were declared the overall winners.
The team scored 798 points, out of 1000 in the competition. In second place were The Road Runners from VIT, Chennai and third place was secured by Team Piranha Racing from Maharashtra Institute of Technology, Pune.
The 2016 edition of the Baja Student India saw participation from 100 colleges all over India. Some of the brightest engineering students had descended at the BIC with their own versions of the Baja Buggy.
Although the engine is a standard Briggs & Straton 1450 Intek Series unit, the buggies differed in chassis, transmission and suspension design. The challenge was to build a light yet robust buggy within the defined parameters.
After clearing the technical inspection and braking tests, which turned out to be quite gruelling for the students, the buggies were to be put through a set of point-based challenges that would determine the overall winner.
The first was an acceleration test that timed the buggies as they sprinted from standstill to a distance of 30 metres. The second task was the weight pulling test where each buggy had to pull a Mahindra Scorpio up a slight incline. The vehicle that took the shortest time to complete the task won this challenge.
The next set of challenges were designed to test the ingenuity and feasibility of the vehicle design.
The manoeuvrability test required drivers to carefully negotiate a tight and twisty course that included steep inclines, ditches and a banked curve. While some of the short-wheel-based buggies flew through the course, the longer and heavier ones couldn't get past the first ditch.
The final challenge, the endurance race, was extremely difficult for both man and machine. The students had to drive around an obstacle course for over three hours, negotiating the treacherous terrain. The team with the maximum laps covered would eventually win. It was particularly hard for the drivers who had to drive with limited visibility due to the mud being kicked around - most of which was from the tyres of their own buggies.
With every new lap completed, the casualties increased. Many buggies were suffering damages, the most common of which was a broken ball joint at the front axle.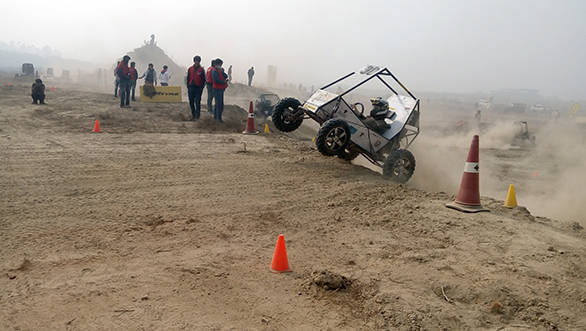 The tough part was towing the buggy back to the Hot Pits where the teams tried to repair their stricken buggies and get back to the track. The winning team, Forza Racing, however, did not suffer even a single breakdown. They were also the fastest team to replace a clogged air filter and the fastest to refuel. Eventually, it was their ability to fight pressure and swift pace that helped them bag top honours at the Baja Student India 2016.
To stay at the cutting edge of automotive news in India, follow us on Twitter (@odmag) or on Facebook (facebook.com/odmag). Or download our app from the iOS orAndroid app stores today
Price (Ex-Delhi)
Starts Rs 12.4 Lakhs