Royal Enfield collaborates with custom motorcycle builders in India
When one talks about custom motorcycles in India, the brand that stands out as the canvas for such creativity is Royal Enfield. Be it individuals, start-ups or well-set brands, almost everyone has worked on a custom Royal Enfield. To further promote this culture, the Chennai-based motorcycle manufacturer has tied up with four names in the custom motorcycle scene, namely, Inline Three, TNT Motorcycles, Bull City Customs and Bombay Custom Works.
Custom Chrome 500 by Bull City Customs
The motorcycles that have been chosen for this are Royal Enfield's bestselling models - the Classic 500 and Continental GT. Each of these four motorcycle design brands have added their uniqueness in the design of these bikes. The modifications that have been done are mainly aesthetics as the performance bit has been left unchanged.
Custom Continental GT by TNT Motorcycles details here
Custom Continental GT by TNT Motorcycles
Custom Classic 500 by Bombay Custom Works
Custom Classic 500 by Bombay Custom Works details here
Royal Enfield has also launched a special collection of gears inspired by these uniquely crafted motorcycles. This includes T-shirts that feature prints of the custom-built motorcycles over the chest and can be paired with RE denims and cargo pants. Additionally, there is refreshed line-up of helmets in chrome, carbon and coloured finishing that again draws inspiration from the four custom motorcycles. RE has also introduced accessories like gloves, belts, badges and boots inspired by these machines. Interested customers can get these special merchandise and gears from dealerships, company stores as well as on Flipkart and Myntra.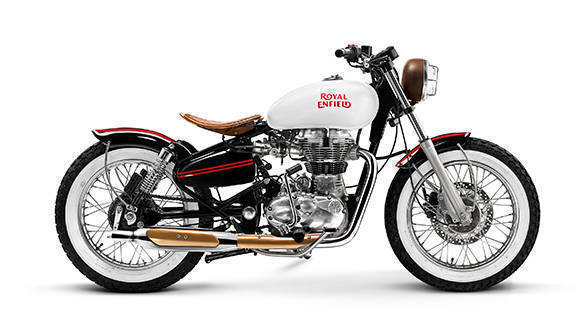 Custom Classic 500 by Inline 3 Motorcycles
Custom Classic 500 by Inline 3 Motorcycles details here
Samrat Som, head, apparel and accessories business at Royal Enfield, said, "Royal Enfield has always been the preferred canvas for those seeking motorcycle-nirvana through the custom route. Collaborating with the custom builders is the brand's way of celebrating a motorcycling inspired way of life. With our refreshed collection of gear and helmets inspired by these motorcycles, we assure our riders of a unique riding experience that goes far beyond just motorcycles."
Also see,
TNT Motorcycles build video
Bull City Customs build video
Bombay Custom Works build video
InLine3 Customs build video
Related Stories