Racing games for smartphone that will keep you busy in quarantine
While the manufacturers along with government and health forces are battling hard with the Coronavirus pandemic, folks sitting at home do have an incentive. The silver lining here is, now we have more time to spend with family and friends and still some more to kill. And what better way is there to kill time than to play racing games on your smartphone.
So here are a few games that would kill your time and keep you entertained. Let's burn some virtual rubber!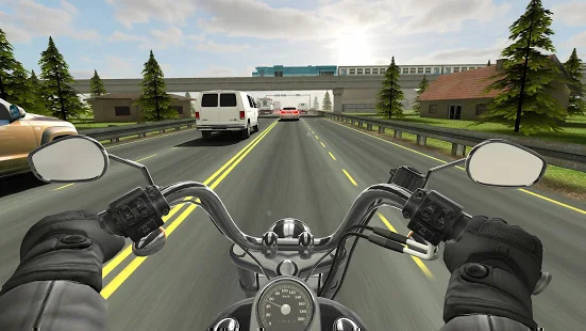 Two wheels to tango - Traffic Rider
Twisting the throttle and riding at high speeds while you collect close calls on a highway sounds really interesting and fun when it is done on a phone and that is exactly what is offered by Traffic Rider. The game lets you hit the top speed and tests your manoeuvering skill on the highway. You get a range of bikes to choose from and the different maps do keep things interesting. And you can also pop a wheelie every now and then.
On fingertips - Asphalt 9: Legends
A console or desktop might be too much hassle these days for some people and exactly for those who want everything on their fingertips, the Asphalt 9: Legends ought to check all the boxes for you. The game has nice graphics and the attention to details is amazing, like dust rolling off tyres shows off the quality and originality of the game. The in-game tracks take you from snowy peaks of the Himalayas to the dusty roads of Cairo in Egypt. There are multiple control choices to suit your style and a lot of variety like drifting, escaping the cops and stunting. The Asphalt 9: Legends will keep you busy through the quarantine.
Effortless - NFS No Limits
If you are looking to just pass your time and do not want any of those heavy customizations then the NFS No Limits will be the right choice for you. It is free to play on Playstore and the App store, but there are in-game purchases which are optional. This one offers decent graphics with good gameplay. You may find the races a little too short and the maps could get dull sooner because of repetition.
A game for everybody - Mario Kart Tour
This one is for everyone in the family who just wants to have a good time, riding in a kart as Mario, Luigi and Wario is visually appealing to both kids and adults. The drive mechanics are simple and fun, the track world looks lively and playful. There are microtransactions integrated into the game which you can avoid. The Mario Kart Tour will surely keep you and your family entertained for a long while.
Easy-peasy – Hill Climb Racing
Moving away from the velocity action to something about equilibrium and control. Hill Climb Racing is about fuel consumption, throttle input and balancing. It is fun and at the same time, it makes you think as well. It offers suspension setup, choice of tyres, drivetrain options and engine settings that makes the vehicle behave differently. The touch calibration is sensitive, so it may take some time to get used to it. But once you get a hang of it, the game does keep you hooked. It is essentially a side-scrolling game where your aim is to not crash the car. The controls are very easy to understand and the idea is to make it to the finish line. There are in-game transactions as well, should you feel the need to get a little serious with the game. You can choose your vehicle as well from a small range of options.
These games ought to help you stay home and spend time with your family and friends while having fun as well.  All the above mentioned are free to play as well, so you don't have to worry