Porsche 718 Cayman line revealed
Within weeks of unveiling the 718 Boxster, Porsche has taken the wraps off its coupe sibling - the 718 Cayman. As expected, it chucks the lovely flat sixes for new flat-four turbocharged powertrains. The 718 Cayman, therefore, will now come with two new engine options - a 2.0l for the base and a 2.4l for the S variant. While the 2.0l is good for 300PS and 380Nm, the 2.4l unit puts out 350PS and 420Nm.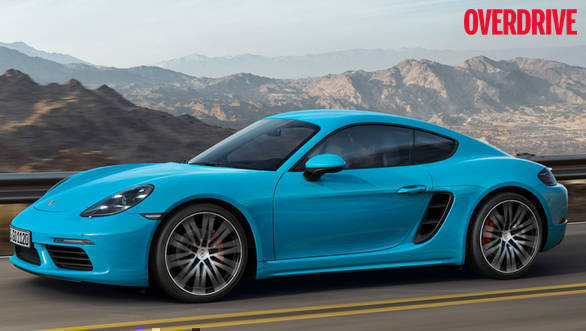 Both the engines have identical power outputs to their counterparts in the 718 Boxster, but are quicker to the ton (4.7s and 4.2s respectively, compared to the 718 Boxster's 5.1s and 4.6s). Top speed of the 718 Cayman and 718 Cayman S is rated at 275kmph and 285kmph respectively. Both the engines come mated to a six-speed manual transmission by default, though consumers can also spec the car with a PDK dual-clutch automatic.
The 718 Cayman also gets a revised suspension geometry, improvement in the directness of the steering rack, bigger brakes and wider rear wheels. The optional PASM suspension drops the ride height by 10mm/20mm for the Cayman / Cayman S.
The exterior gets new taillights, revised headlights, a gloss black appliqué between the taillights and new bumpers. On the inside, it gets kit and steering from the previous Cayman's GTS variant.
Expect the 718 Cayman to arrive into India later this year, however, the fortunes of the 718 Cayman S for India are as blurred as those the 718 Boxster S.
Price (Ex-Delhi)
Starts Rs 86 Lakhs
Price (Ex-Delhi)
Starts Rs 1.02 Crore
Price (Ex-Delhi)
Starts Rs 1.05 Crore