Peugeot all set to come back for the 2015 Dakar
French car manufacturer Peugeot is coming back to the Dakar in 2015, exactly 25 years after its last appearance in 1990. Peugeot had a great winning streak when it retired, having triumphed at the Dakar for four years consecutively from 1987 to 1990. The plan to return to the famous desert battleground stems from Peugeot's successful run at the Pikes Peak hillclimb in the 208 T16 driven by Sebastien Loeb.
Peterhansel, Carlos Sainz, Cyril Despres - what a line up Peugeot has for the 2015 Dakar!
However, the news that is making waves right now is that Stephane Peterhansel will also join the team. Peterhansel has had 11 wins in Dakar - six times on a motorcycle and five times in a car. The Frenchman has ended his contract with Mini X-raid team. Now this is where it gets interesting. Peterhansel had extended his contract with X-raid till 2015 last November. However after the 2014 Dakar, he was really 'frustrated' given that the team ordered him to allow Nani Roma to pass him for the lead in the rally. Even Nasser Al-Attiyah was asked to do the same, parking their cars till Roma regained the lead. No surprise then that Peterhansel has decided to head to the resurgent Peugeot team, then.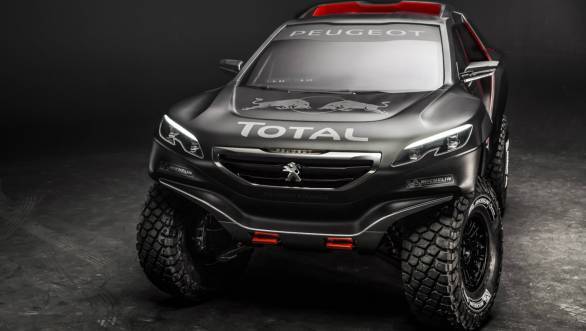 The Peugeot 2008 DKR that the trio will pilot in the 2015 edition of the Dakar
Adding strength to the Peugeot team is 2010 Dakar winner - Carlos Sainz. Peugeot has announced that they will not impose team orders in the Dakar, allowing the drivers to compete against each other. Peterhansel will continue with his previous co-driver, Jean Paul Cottret. Joining the two drivers will be Cyril Despres, who is making a switch to four wheels after winning Dakar on two wheels five times. The weapon of choice for the drivers will be the two-wheel drive Peugeot 2008 DKR.
There's more news though. Rally legend Sebastien Loeb might also join the dream team, although as of now this is rather speculative.
While the Peugeot team does look strong, the X-raid team cannot be dismissed with Nasser Al-Attiyah (2011 Dakar winner) on their side. Toyota, too,  has been running strong, though they have been a bit off-pace of late. The only thing that can be said is that with Dakar opening up marathon stages to all classes, the challenge is going to be even harder.