Parx Supercar Show enthralls Mumbai
What a sight to behold. One wonders which superlative will suffice to describe this mega exhibition of exotic proportions. Engine configurations ranging from in-lines to Vs with a maximum of 12 cylinders, power sheet metal that's shaped to evoke frenzied reactions ranging from eyeball-popping to jaws-on-the-floor and exhausts producing tunes that simply make you yearn for an encore.
The annual Parx Supercar Show in Mumbai showcases what people can do when petrol runs through their veins (and when there's Scrooge McDuck-ian proportions of wealth to take laps in and burrow through). Held at the RWITC, Mahalakshmi in Mumbai, the two day extravaganza gave people a chance to see these rare masterpieces in the flesh, all together at one place.
Supercars from the revered stables of Ferrari, Lamborghini, Maserati, Aston Martin, Jaguar, Porsche, Rolls-Royce, BMW, Nissan, Mercedes-Benz and Audi made the audience go weak in their knees. The 458 Italia, 430 Scuderia, Gallardo Superleggera, Aventador, 911 Turbo, XKR, GT-R and many more dazzled at the show. The cynosure of all eyes, though, was the Ferrari LaFerrari. This super exclusive hypercar was on display for the first time in India. This 960PS and  350+ kmph car showed the audience what one of the very best in the business can produce.
The 960PS and 350+ kmph LaFerrari was the cynosure of all eyes
Also for the first time this year, there were Superbikes on display. Leading its two-wheeled brethren was the gargantuan Honda Gold Wing that was aptly placed at the centre of the motorcycle section. The famous Hayabusa, Ninja ZX-14, Z1000, CBR Fireblade and Speed Triple teamed up with cruisers from Harley-Davidson and Moto-Guzzi to satiate the two-wheeler enthusiasts.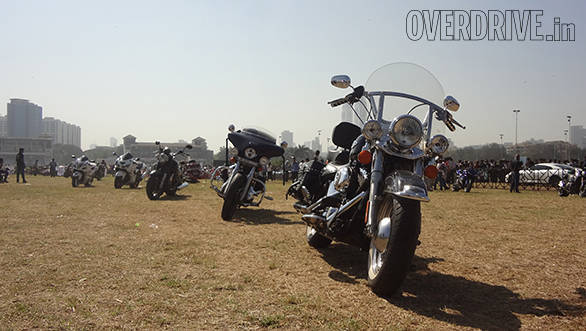 Day one was reserved for the display of cars and bikes with an occasional firing up of engines. Supercars and superbikes, some with aftermarket exhausts from the likes of Racetech and  Akrapovic filled the atmosphere with delightful aural symphonies as their engine revs bounced off the limiter. Day two saw the cars and bikes take to the streets of Mumbai, driving past iconic landmarks and as expected, stopping everyone in their tracks.
Speaking at the Supercar Show, Gautam Singhania, chairman and managing director of Raymond Limited said, "We are happy that the two-day supercar extravaganza has culminated as we showcased 100 supercars and 25 super bikes to automobile enthusiasts who had gathered from around the country. The seventh edition was even bigger and we are thrilled to witness the popularity of this only supercar show in the country."
The Parx Supercar Show, the only one of its kind in India, surely did provide Mumbai with its dose of adrenaline for the weekend.
Price (Ex-Delhi)
Starts Rs 1.38 Crore
Related Stories