Of the people in the shadows...
In a room full of racing fans, you can always spot a race engineer from a mile away. Or, you ought to be able to. Especially when it comes to a race like the 24 Hours of Le Mans. Of course, racing enthusiasts and anoraks will be following the race closely, staring unblinkingly at the screen, taking in as much information as possible, calculating the gap the leading car has over the chasing car, how long it is to the next pit stop and trying to understand as much as possible of what's going on. After all, there's really not much more that you can do. But the race engineer will look different. The race engineer will stare at the screen unblinkingly too, but processing just so much more information than we can. You can almost see that the cogs are turning, and the little grey cells are analysing things that are certainly on another level to what the regular race fan can possibly comprehend.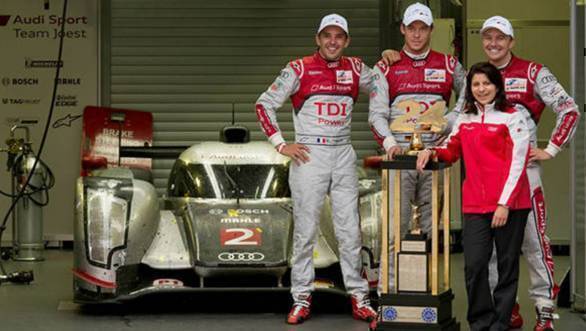 Ace race engineer Leena Gade and drivers Benoit Treluyer, Andre Lotterer and Marcel Fassler with their trophy after winning the 24 Hours of Le Mans
It was something that I realised when I stopped by the Porsche hospitality at the 24 Hours of Le Mans this year. There were plenty of people in there who were being mobbed by fans - the likes of Derek Bell and Jacky Ickx - who are very worthy people to mob if you're into that sort of thing. That Patrick Dempsey was one of the people being mobbed the most (no discredit to his own enthusiasm and accomplishments in motorsport) was ironic, given that he was surrounded by racing legends. But all that aside, there was a young lady sitting at a table eyes glued to the television, who went largely unnoticed. Someone around me had assumed that she was the wife of one of the drivers. When I pointed out that she was in fact a highly accomplished motorsport personality, I was met with a disbelieving stare. Yes indeed, sitting at a table, just sipping some coffee, was Leena Gade. Three-time Le Mans winning race engineer, who is instrumental behind the success of Audi-trio - Benoit Treluyer, Marcel Fassler and Andre Lotterer. She wasn't being mobbed or bothered by anyone, she was just sitting there closely following the race.
Gade's story is something that I always find inspiring. Simply because it's a story that is very real, demonstrates that there really are no short cuts, and also that hard work, beyond all else, will take you places. When I'd interviewed Gade a few years ago, she'd talked about how as a child she'd always been curious about how things worked. So she and her sister (who used to be Kris Meeke's race engineer) would take things apart and put them back together. Of course a love for motorsport had already set in with Formula 1 very popular in the UK at the time and Murray Walker's enthusiastic commentary helping things along. Gade was quite clear that that's where she wanted to be. Once she was a qualified aerospace engineer, she started out helping racing teams over the weekends, still holding a day job with Jaguar cars.
Things grew from there. She went on to become part of a small privateer LMP1 outfit in 2006. Just five years later, in 2011, she was Audi's race-winning engineer, the person instrumental in getting their No.2 car to victory. Gade had risen through the ranks at Audi, first as assistant race engineer, and then as race engineer, purely on merit. She was, quite simply, good at what she did. Today, she is one of the most highly respected race engineers in the world, currently heading Bentley's customer sport operations.
At this year's 24 Hours of Le Mans, I heard Gade on and off on Radio Le Mans doing some commentary that helped give those of us who had bought a Radio Le Mans headset more insight in terms of what was going on in the race. After the race was done I remember hearing her say over the radio that she'd had tears in her eyes when the No.2 Porsche crossed the finish line first. It was something that she said she found funny, given that she wasn't really a part of this particular Le Mans. But if there's anyone who knows the pure emotion that goes into a race like the 24 Hours of Le Mans, it is Leena Gade. And the fact that she teared up after the race is a testament to just how committed she is to motorsport, on not only an engineering level, but also on a human level.
So, why am I going on and on about the one race engineer who wasn't even a part of this particular Le Mans, as she herself admitted? Well, because we live in a world where it's becoming increasingly difficult to celebrate real achievements. Information goes out masked in a haze of hashtags, ability is often overlooked, and motorsport is viewed through rose-tinted glasses, coated with a slick layer of glamour. And nobody seems to see the people who often work very, very hard in the background. So a three-time Le Mans winning race engineer sitting at a table and following the big race, goes completely under the radar.
Which brings me to this. The world is as it is. We live in a time where social media often acts as a crutch that aids and abets mediocrity. But we have been given the gift of a few grey cells of our own. So learn to be a discerning judge. Know that very often, that someone highly accomplished, who toiled so hard to make any sort of project successful, is far from the spotlight, hiding away in the shadows. Know that it isn't just the person in front of the camera that counts. Know that Instagram filters lend colour to life on a screen, but that when the battery dies you've got to deal with real life sans likes and comments. Know that the sheen of glamour always fades. But that hard work and true accomplishments will endure. So, choose your heroes wisely.