Feroci writes a letter
Hello world,
I turn one today. Shumi took the reins and began his reign exactly one year ago at the Ducati showroom (where else) in Mumbai. Maybe reign is a strong word, because he's... No it is a reign. But before I get to him, I've other people who need to be, er, addressed. Yes, like pets and owners, I seem to have started talking like him. Damn.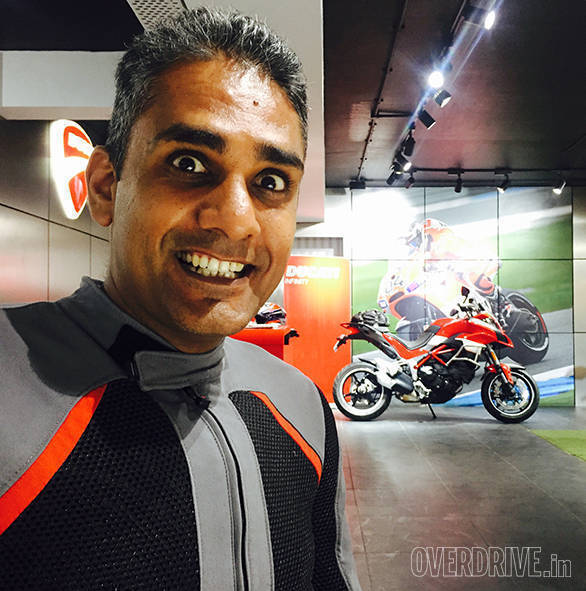 A full-on ball of emotions as I take delivery at Ducati Mumbai. A gaggle of friends showed up and it was wonderful and inside my deepest of the deep, slightly awkward
Mark Fernandes
Mark is the man on a mission at Ducati Mumbai. Mark and I actually rode together before Shumi got a chance - to the RTO. Good ride, Mark, yes?
Feroci, OD's long term 2016 Ducati Multistrada 1200 S turns one
Roald D'Costa
Roald is Smile Bhai to us - it's an inside joke. Roald (then at Ducati Mumbai) was the man who did all the paperwork while Shumi nervously flitted in and out of the showroom worrying everyone in sight. Smile Bhai kept him sane (I think).
Balvir Singh
I haven't actually met him. But he's the man who did the stripe design on his computer at the OVERDRIVE offices. Thank you Balvir!
Zubin Ponappa has been working on big motorcycles since time immemorial and remains the TLC-man for Ferocitas my KTM 390 and Feroci, the gorgeous Ducati Multistrada he's posing with here
Zubin Ponappa
Zu is my bae. He's seen more of me than Shumi. Zubin took me to Zubinn Design HQ before registration and executed the design you all love so much. He also made/installed/fixed every mod you see on the bike. Such care and patience. Especially for Shumi. Hahahahaha!
Joshua Crasto
Josh is my other bae. Unfortunately we haven't met in a while. But I've a feeling we will. And it'll probably be on the road too. Garage 52 (@garage52mumbai), I'm coming over soon!
Wagon R Uber/Ola
April 1, 2017. I haven't forgotten. You'll get what you deserve.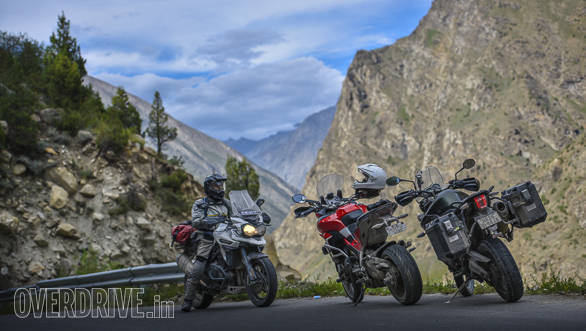 Bertrand D'Souza
Yes, Bert, I remember corner before Pang a little too well.
Pankaj Sharma at Ducati Delhi
Thank you for fixing me so well and so fast. The ride back to Mumbai was so much fun!
Anand, Dodo, Vignessh and Abhay
Again? When? Racetrack? Remember this? Mountains? Both? Come on come on let's go. We'll let Shumi come and break a leg also. Heh heh
12,700km
In a year. Wow. I'm so happy. I've been taken care of. And like Shumi, I'm a bit of a workaholic. I'll need new brake pads and tyres soon, though...
Onward and forward, then! Thank you all for following my story!