A night in the desert
On the 25th of December, 2019, just 10 days before he was set to take the start of the 2020 Africa Eco Race – which follows the route of the original Dakar Rally – Ashish Raorane was in hospital, and it wasn't looking good. The Indian off-road rally-raid privateer, who spends one half of his life on a ship where he's a marine engineer, and the other half of his life behind 'bars, had most unfortunately been diagnosed with dengue. He'd posted a photo on Instagram of himself in a hospital bed, looking rather woebegone. Given the illness with which he found himself afflicted, and given the timing of it all, I suppose I expected to see an update soon after, that would let us know that he'd decided against competing in the event. Doctor's orders and all of that.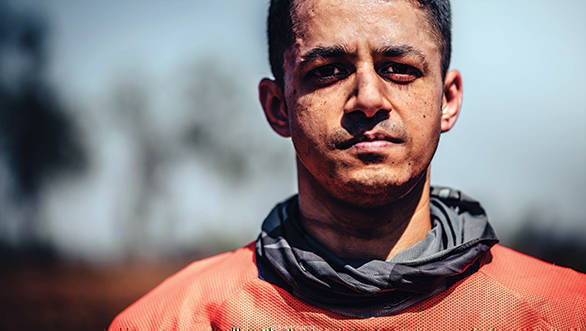 Ashish Raorane is currently India's most promising rally-raid privateer
Imagine my surprise, then, when on the 2nd of January Raorane posted another photograph of himself on Instagram with a more upbeat caption. Among other things, the text typed under it assured us of Raorane's philosophy, saying, "I guess, when it comes down to it, not trying is never an option." It's the sort of spirit that we've come to associate with off-road rally-raid racers. But more importantly, it's the sort of spirit that we've come to associate with privateers in motorsport. After all, it takes a certain sort of temperament to go out there, without factory backing or support, and do all those seemingly impossible things. Events like the original Paris-Dakar, the current Dakar Rally, and the Africa Eco Race are hard enough to tackle as factory riders – they're absolutely brutal and punishing. Add to that the stress of being a privateer on a somewhat shoestring budget, hustling to make all of this happen, and it truly boggles the mind.
So there Raorane was, clearly still recovering from his illness, and admitting that he knew he wasn't 100 per cent physically fit, but vowing to give the 2020 Africa Eco Race everything he'd got. And the lot of us watching from afar were both happy that that's what he was going to do, and also somewhat worried for him. Because finishing a rally like this when one is in good health is incredibly challenging. Finishing a rally like this when one has the best machine in the business, is quite the accomplishment. And there "The Mariner" was, taking on the rally when he wasn't really in the best shape (did we mention he was also recovering from a hairline fracture in his ankle?) and a motorcycle that wasn't quite what he needed (since his budget didn't allow for him to rent a KTM 450 Rally Replica, Ashish had settled for a KTM 450 EXC, which put him at a disadvantage as far as top speed and fuel autonomy was concerned).
But what did cheer us up considerably was Ashish's attitude towards the Africa Eco Race, setbacks and all. After all, it's this same "never give up" attitude that had managed to take him to 18th overall at the end of his first international event – the 2018 Panafrica Rally. And this same spirit that had seen him through the 2019 FIM Bajas World Championship, where he ended 12th overall. And I'm happy to say that it's this same attitude that we saw eventually carry Ashish through to a 57th position overall at the 2020 Africa Eco Race. And getting there wasn't easy.
Enter Murphy: "Anything that can go wrong, will go wrong." I don't just mean the regular riding errors and that crop up every so often in cross-country rally-raid events. Because even with all those things, Raorane had managed to hold 20th position around the rally's halfway mark. But Murphy's law really kicked in on the rally's eighth stage. Not only had Raorane made a navigational error, causing him to waste fuel, he then found himself in the middle of the desert, his motorcycle buried in the sand, out of water and food, and without enough fuel to get to the next refuelling point. He would spend the night in the dunes, waiting for the recovery truck to come get him and his motorcycle. And sitting there, in a little hole he'd dug behind the bike, wrapped up in a blanket from the emergency kit, it wasn't really the thought of creepy crawlies and the odd desert snake that bothered him. It was the fact that he couldn't get word back to his wife, Tanya, to let her know that he was okay. Ashish would eventually get picked up by a recovery truck and reach the bivouac a full 31 hours later.
But even at this point, when all hopes of a great finishing position were dashed. Raorane didn't give up. When his bike finally arrived, by which time he'd already missed a couple of stages of the rally, him and the Nomadas Racing crew worked to ensure he could take the start of the 11th stage, even if he'd have to exit the stage immediately after. It would keep him from being eliminated from the event entirely, albeit with considerable penalties – 64hr 34min in total at the end of the rally. Eventually he'd make it to the finish line at Lac Rose. No, 57th probably wasn't where he really wanted to end up, but how often does life allow things to go exactly the way we plan for it to?
Which brings me to this. More often than not, the biggest life lessons that we learn, are learnt in the face of adversity. See, it's okay to do well when things are going fine, and when it's all smooth sailing. But who we truly are, can be best gleaned in our reaction to choppy waters. In our desire to get back up, face full of desert sand, and get on with things. And in our ability to make the best of a truly bad situation, finish what we began, and tell the true story of how it all happened – irrespective of a less-than-ideal finishing position. It's exactly what Ashish Raorane's done. And it's also the reason why we're rooting for him and his Dakar dreams. Godspeed, Ashish, godspeed.