NRC: N Leelakrishnan dominates the Indian Touring Cars class
It appears that whatever happens in the MMSC-FMSCI National Racing Championship happens in pairs. Honestly, whenever there are two races in a particular race weekend, the same driver seems to win both. And so it was yet again at the Chennai track.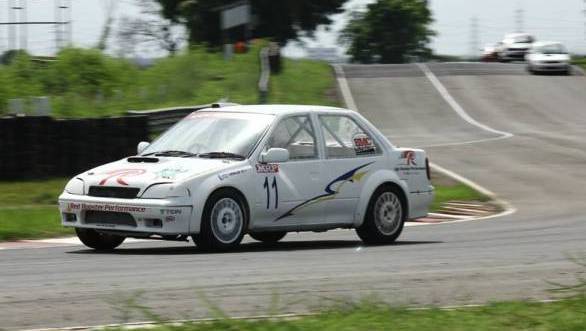 Here's N Leelakrishnan on his way to victory in the ITC races
N Leelakrishnan got off to a good start in the Indian Touring Cars category at the first round of the championship back in February. From then on, the ace tuner has managed win after win in the class, only taking a break in Round 3 of the championship when Gaurav Gill drove an Esteem tuned by Leela to victory in both races. At Round 4 of the championship, Leela qualified on pole and took a lights to flag finish in the first race, finishing ahead of V Ramnarayan and Arjun Narendran. The second race of the weekend saw an identical podium, although it was a three-way battle for second and third spots on the rostrum.
S Narendran continued his domination of the Formula LGB4 class
In the Indian Junior Touring Cars category, Feroze Khan took victory in both races, winning from VJ Senthil and Charen Chandran, who finished in that order in the second race as well. Khan has won every single IJTC race of the 2013 season - quite the winning streak!
Deepak Chinappa took two wins of three races in the Formula Swift category
The theme of identical podiums continued over in the open-wheel category of racing, with S Narendran winning races 1, 2 and 3 in the Formula LGB4 category. The order behind him was constant in races 1 and 3 - Jigar Muni and Sudanand Rajan finished second and third. In race 2, veteran racer C Rajaram finished second with Emmanuel Jebaraj finishing third. In the Formula Swift races, Deepak Chinappa racked up two wins of three races, finishing second in the other.
The next round of the National Racing Championship will be held between the 14th and 15th of September at the Buddh International Circuit.