Next-gen Skoda Octavia RS continues with 245PS 2-litre TSI engine
After Skoda revealed the fourth-gen Skoda Octavia RS earlier this year, in its first-ever petrol-hybrid variant, details of the petrol/diesel powertrains have finally been made public. Notably, power from the EA888 2-litre petrol engine (mated to either a 7-speed DSG/6-speed manual) remains the same as the current-gen RS at 245PS/370Nm and you can read our review of the RS 245 here. We expect Skoda India to bring in the next-gen Octavia early next year, with the RS model expected to follow shortly after.
Many RS fans were hoping Skoda would bump power to match the 290PS offered in the VW Golf GTI TCR powered by the same engine. However, the petrol Octavia RS' figures do match the total system output of the petrol-hybrid Octavia iV, which is powered by a 1.4-litre TSI combined with a 116PS electric motor, though that model is rated slightly higher in torque at 400Nm, with the added advantage of a majority of that torque delivered instantly thanks to the electric motor.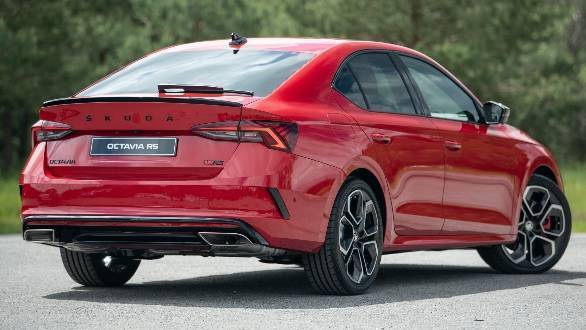 The diesel Octavia RS has had a bump in power from its 2-litre TDI, going from 184PS up to 200PS, with only a 7-speed DSG on offer. The third-gen Octavia RS was the first RS model to offer AWD, and the new-gen diesel RS continues in that tradition, being the only one in the RS lineup with the benefits of power being sent to all four wheels. Interestingly, the Skoda Kodiaq RS is available internationally with Skoda's most powerful diesel engine, a 2-litre TDI tuned to 240PS and 500Nm torque, giving the AWD SUV an admirable 0-100kmph time of 6.9s. We've driven the Kodiaq RS and can confirm it's quick in all kinds of weather. We can already hear the gears whirring in the minds of the RS enthusiast – the lighter Octavia RS with AWD and those power figures would be quite the force to be reckoned with!
You can also watch our review of the Kodiaq RS:
Price (Ex-Delhi)
Starts Rs 25.99 Lakhs
Price (Ex-Delhi)
Starts Rs 34.99 Lakhs