New generation BMW 3-Series teased further ahead of Paris Motor Show unveiling
BMW has released a few teaser images of the upcoming all-new BMW 3-Series ahead of its Paris Motor Show debut. These show glimpses of  the M Performance version of the all-new seventh (G20) generation car. These images reveal not much other than what seems like more sculpted bodywork and large 18 or 19-inch rims. Another teaser shows the BMW's patented Hoffmeister kink is a bit sharper now and accentuated by a plastic add-on. The slightly upswept bootlid is another unique touch.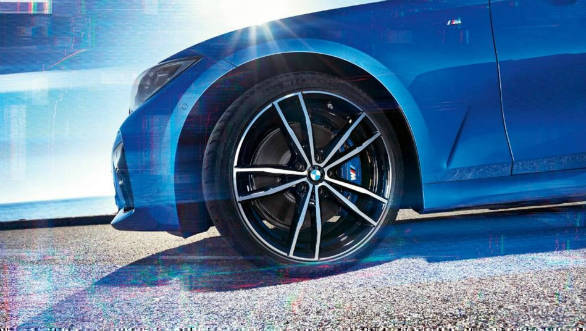 The last teaser has shown us that this 3-Series sees the newest interpretation of the firm's double-barrel lamps in the form of two L-shaped LED DRLs. The kidney grille is now much more upright and prominent.
Earlier spy shots of a test mule also show the new 3-Series to follow a more evolutionary design brief. The basic silhouette doesn't seem to have changed a whole lot but specific design touches are more developed than the current. This can be seen in the complex 3D taillamps, a more sculpted bumper and the new headlamps. This is a similar design strategy to what BMW has followed with the latest 5-Series and 7-Series as well. Overall, the car looks a lot like a smaller 5-Series. Earlier images had also shown the interiors.  The instrument cluster is all-digital and the floating touchscreen placed on the redesigned centre-console is also larger.
The new 3 Series is expected to arrive with a wide variety of diesel and gasoline engines in Europe, with their outputs ranging from 136PS to 380PS. The new M3/M4 will come later but step up power to around the 500PS mark. This car will be powered by BMW's latest 3.0 inline-six but will also come hybrid assistance this time around. The 2.0-litre diesel is expected to continue as the mainstay of the Indian line-up. Given that the 3 Series will be based on BMW's new CLAR architecture, the new car should weigh about 30 to 40 kgs less than the outgoing car.
The new 3-Series will compete with the Mercedes-Benz C-Class, Audi A4, Jaguar XE and so on. Traditionally BMWs have always been the most driver-oriented option in this range, but this has been changing lately with the new 5-Series and 7-Series both becoming softer and laying a more emphasis on the rear-seat passengers. This is set to continue with the new 3-Series a well but the car can be expected to retain a higher standard of dynamic ability than most rivals.
Price (Ex-Delhi)
Starts Rs 42.34 Lakhs
Price (Ex-Delhi)
Starts Rs 44.98 Lakhs
Price (Ex-Delhi)
Starts Rs 55 Lakhs