Mumbai Traffic Police receives order to stop unnecessary checking of documents
Officials of the Mumbai Traffic Police have been given orders by their higher authorities to stop checking for documents if a vehicle has not violated any rules. The order specifically mentions the PUC(pollution under control) certificate and insurance certificate. After the implementation of the e-challan system in the city, this move has been undertaken to avoid discrepancies in instances wherein a motorist is stopped by the police just to check for documents and also to increase transparency.
Issued by Milind Bharambe, joint commissioner of police (traffic), the order directs officials not to check for any documents issued by RTOs until further notice.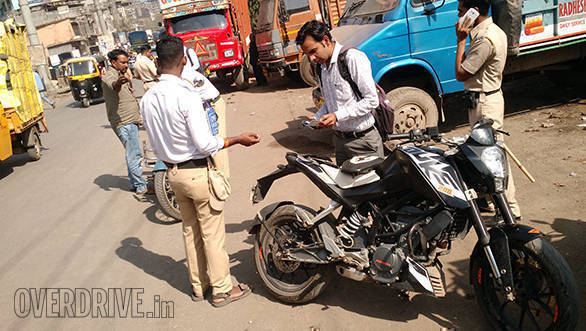 "The objective of implementing the e-challan system is to make motorists follow traffic rules, to bring discipline to the city's traffic and to implement the cashless system. Despite this, the department is receiving complaints that officers and constables are not maintaining transparency during action," says an excerpt from the order.
It adds that instances of the constables asking for documents despite implementation of the new system are leading to bribery and damaging the image of the department.
The e-challan system was implemented to remove irregularities and bribery from the operations of the Mumbai Traffic Police department. The order to stop checking for documents was issued to the Additional Commissioner of Police (Traffic), the three DCPs in the traffic department, Assistant Commissioners, Senior Police Inspectors and inspectors of all the traffic branches on 10 March, 2017.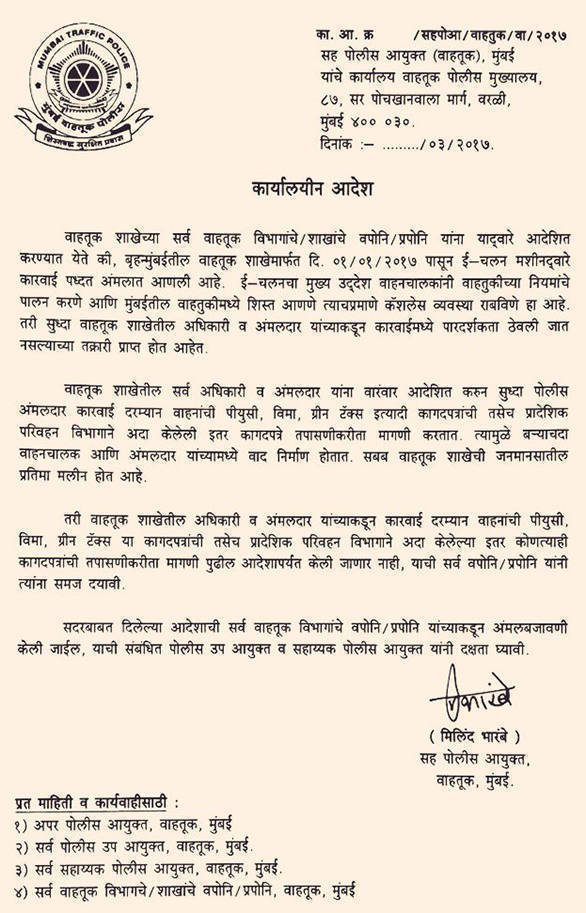 This is the order notice by the traffic police commissioner
Currently the PUC or even the insurance papers aren't uploaded online. We aren't sure how the regulatory authorities will check whether these are valid or someone is driving or riding around with a lapsed official paper. This rule isn't clear whether it will be applicable to nakabandhis or otherwise. However, given the daily scenario, traffic cops refuse to acknowledge all this and insist on wasting time of the motorists by still asking them for the vehicle papers as well as the driver's license. If you are in Mumbai and encounter any such situation, do let us know in the comments section below.