MRF Challenge 2015: Tarun Reddy takes his first victory in Round 3
Indian racer Tarun Reddy, came a away from a bad practice and qualifying session, to secure his maiden victory at the MRF Challenge 2015 in the third round of the championship. He won the second race which was red flagged on the third lap after Guiliano Alesi crashed. The results were based on the combined times of the race before it was red flagged and the five laps after the restart.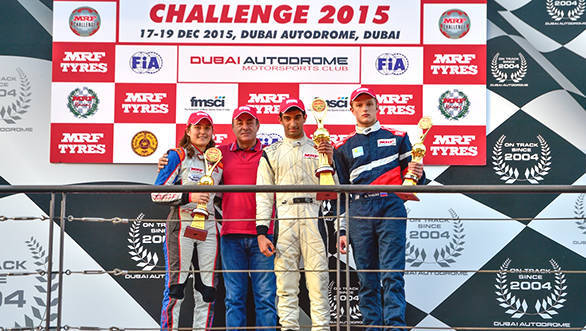 The first race saw pole sitter Alessio Picariello take the win after a tough battle with Pietro Fittipaldi and Nikita Troitckii. Behind them, were Tatiana Calderon in fourth, and Tarun Reddy who made an impressive climb up from 10th on lap 7 after some skilful overtaking manoeuvres.
In the second race, Max Fewtrell was on pole with Tarun Reddy starting second on a reverse grid. By the first corner, Reddy made his move and was in first place. In the same lap, Guiliano Alesi and Sean Walkinshaw crashed out in two separate incidents, bringing out the safety car. The race was finally red flagged on lap three to fix the barrier. After the restart, Tarun Reddy took the lead again at the start and was followed by Fewtrell and Calderon. By the penultimate lap, Calderon managed to pass Reddy to finish first, while the latter fought off four cars to hold on to second. But Reddy was declared the winner by a margin of 0.26 seconds.
Tarun Reddy said after his win," "We had a really tough start to the weekend but in Race 1, the car felt really good and I managed to overtake quite a few drivers to finish on P5. At the restart of Race 2 I got a good start again and managed to pull away. Tatiana Calderon managed to get past me and I was disappointed when I crossed the finish line in 2nd place. When I came into the pitlane they told me I had won, so am really happy with the result."
The final round of the MRF Challenge 2015 will take place at the MMRT in Chennai from 29-31 January, 2016.
Race 1 results:
1. Alessio Picariello
2. Pietro Fittipaldi
3. Nikita Troitckii
4. Tatiana Calderon
5. Tarun Reddy
Race 2 results:
1. Tarun Reddy
2. Tatiana Calderon
3. Nikita Troitckii
4. Max Fewtrell
5. Nerses Isaakyan
INDIAN FLAG FLIES HIGH AS TARUN REDDY BEATS TATIANA CALDERON IN CHAOTIC RACE IN MRF CHALLENGE 2015 IN DUBAI
December 18, 2015: Young Indian driver Tarun Reddy won his first race of the MRF Challenge 2015 after beating Tatiana Calderon in Race 2 of Round 3 of the MRF Challenge 2015 at the Dubai Autodrome. The race was red-flagged on lap 3 when Guiliano Alesi crashed. The final result was based on the combined times of the race before the red flag and the last five laps of the race. While Calderon crossed the finish line in first place after overtaking Reddy, the Indian driver was adjudged the winner after winning the race by 0.260secs. Russian driver Nikita Troitckii got his second podium of the day with a third place finish. Earlier in the day Alessio Picariello continued his great form by winning Race 1 after a three way battle with Pietro Fittipaldi and Troitckii, who finished in 2nd and 3rd place. In Race 1 pole sitter Picariello kept his lead into the first corner while Troitckii held on to 2nd place with Fittipaldi jumping a slow starting Sean Walkinshaw into 3rd. Female driver Tatiana Calderon had a qualifying session to forget but made up for it with a great start. She hunted down 4th place man Harrison Newey on lap 2 to move up another place. The battle for the lead was heating up with Picariello unable to shake off Troitckii and Fittipaldi. Fittipaldi took advantage of the battle to pass Troitckii on lap 6 and move into 2nd place. Behind them Calderon was 4th place with fast charging Indian Reddy moving up from 10th on the grid to 5th on lap 7 after some good overtaking moves. Picariello crossed the finish line in first place with Fittipaldi and Troitckii in tow, the top three being covered by less than a second. Calderon finished in 4th place with Reddy in a strong 5th place, ahead of Max Fewtrell. Harrison Newey finished in 7th place, ahead of Nerses Isaakyan, Dylan Young and Giuliano Alesi. Race 2 started with Max Fewtrell on reverse grid pole, alongside Reddy. Reddy got the jump on him and moved into first place into the first corner. He was followed by Fewtrell, Troitckii, Calderon and Picariello. Alesi crashed at the end of lap 1 with Sean Walkinshaw also crashing out in a separate incident which brought out the safety car. The race was finally red-flagged on lap 3 to clear the car and fix the barrier. Picariello suffered a steering problem and was forced to pit and start from there for the restart ending his dream run of results. The race was to be restarted and be a 5 lap encounter. Reddy led from the start and was followed by Fewtrell and a fast starting Calderon. Calderon started putting pressure on Reddy and finally passed the Indian on the penultimate lap. Calderon crossed the finish line in first place with Reddy holding off 4 cars to finish in 2nd place. He was adjudged the winner by tiniest of margins with Calderon having to settle for 2nd place. Troitckii finished in 3rd, followed by Fewtrell, Isaakyan, Fittipaldi and Young. Alessio Picariello was pleased after another win but was disappointed his run came to an end. He commented, "In race 1 I had a great start managed to control the pace. Fittipaldi and Troitckii were really quick behind me but I managed to hold them for the win. In race 2 I unfortunately had a problem with the steering wheel which forced me to take the restart from the pitlane. Either way it was a good day and I will push for more wins tomorrow." Indian driver Tarun Reddy was relieved to get his first win after a tough start to the weekend. He commented, "We had a really tough start to the weekend but in Race 1 the car felt really good and I managed to overtake quite a few drivers to finish in 5th. In the second race I started in 2nd and managed to jump Fewtrell and pull away. At the restart I got a good start again and managed to pull away. Tatiana (Calderon) managed to get past me and I was disappointed when I crossed the finish line in 2nd place. When I came into the pitlane they told me I had won so am really happy with the result." Earlier in the day Alessio Picariello continued his dominant run by taking pole position. The Belgian driver clocked the fastest lap with a time of 1m58.786s, the only one to dip into the 1m58's while Russian Nikita Troitckii was second. British driver Sean Walkinshaw having been quick all through the session ultimately ended third. Championship leader Pietro Fittipaldi finished fourth with Max Fewtrell completing the top five MRF Challenge 2015 Race 1: 1. Alessio Picariello 2. Pietro Fittipaldi 3. Nikita Troitckii 4. Tatiana Calderon 5. Tarun Reddy MRF Challenge 2015 Race 2: 1. Tarun Reddy 2. Tatiana Calderon 3. Nikita Troitckii 4. Max Fewtrell 5. Nerses Isaakyan Schedule: December 17, Thursday: Free Practice 1 & 2 December 18, Friday: Qualifying (9am), Race 1 (13:15), Race 2 (15:40) December 19, Saturday: Race 3 (10:10), Race 4 (13:15) MRF Challenge 2015 Calendar: Round 1: October 29-31, 2015, Abu Dhabi, Yas Marina Circuit Round 2: November 18-20, 2015, Bahrain, Bahrain International Circuit (World Endurance Championship Support Race) Round 3: December 17-19, 2015, Dubai, Dubai Autodrome Round 4: January 29-31, 2015, Chennai, Madras Motor Race Track