MotoGP star Andrea Dovizioso to make DTM guest appearance at Misano
2017 and 2018 MotoGP runner-up, Andrea Dovizioso, is set to switch from two wheels to four, albeit only for a weekend. The Italian rider, who competes in MotoGP for Ducati, astride a Desmosedici GP19, will switch to the Audi RS5, competing in the DTM championship at Misano, Italy. Dovizioso will drive both races over the course of the weekend (June 8 and 9), replacing regular driver Pietro Fittipaldi.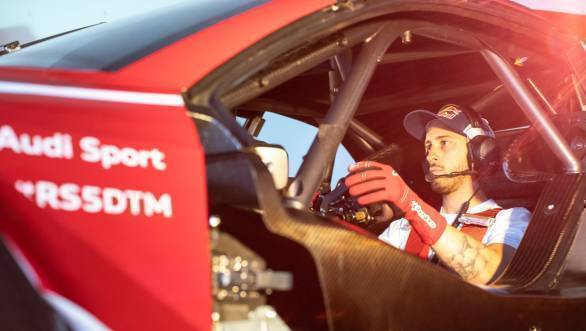 Andrea Dovizioso will drive the Audi RS5 DTM at Misano
Dovizioso, who has 13 Grand Prix victories, and 53 podium finishes, is one of the more prominent names in the MotoGP paddock, and is likely to attract more Italian fans to the race weekend at Misano. After four rounds of the 2019 season, he is ranked third in the MotoGP standings. Switching to four wheels means he will follow the footsteps of riders like John Surtees, Mike Hailwood and Johnny Cecotto.
"It's tough to find the time to prepare for it during the MotoGP season but I am really looking forward to compete in such a high-level context such as the DTM. The car is amazing, but it's a different challenge compared with my Desmosedici GP and I need to get prepared, so I did many laps in the simulator before stepping into it for the first time. Misano is a special track for every Italian driver and the place where I scored an incredible win last year so I'm very excited and thankful for this opportunity," said Dovi of his debut in the DTM.
The Italian MotoGP star has already had his first taste of driving in the RS5
Meanwhile, Dieter Gass, head of Audi Motorsport, said of Dovi's DTM news, "We're already extremely excited to see how he's going to fare in his DTM debut. That he's taking time out for the DTM between two MotoGP races is fantastic and not to be taken for granted at all. I'd like to particularly thank Ducati's CEO Claudio Domenicali and Luigi Dall'Igna, General Manager of Ducati Corse, who agreed to this guest entry."
Dovizioso will race in the WRT Team Audi RS5, while regular driver, Fittipaldi, will attend the Formula 1 weekend in Canada, as test driver for the Haas F1 team.