MotoGP 2015: Marc Marquez wins at Indianapolis
With Marc Marquez on pole at the Old Brickyard, and Jorge Lorenzo quick all weekend, if there was one thing that we could be certain of as the motorcycles lined up on the grid for the start of the 2015 Indianapolis MotoGP, it was that the race was going to be memorable. And so it was.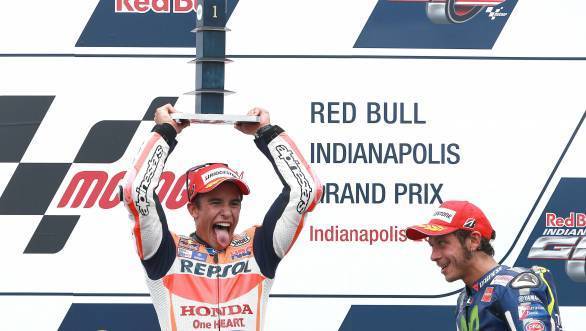 Certainly seems pleased with himself, does young Marc Marquez, having won the 2015 IndyGP
While Jorge Lorenzo, who'd crashed astride his M1 during the warm up, was still somewhat shaken, he proved to be a force to reckon with during the race itself. The Yamaha rider snatched the lead early on and kept Marquez behind him for as long as he could. But when, with three laps to go, the Repsol Honda rider muscled his way past, there was little Lorenzo could do to prevent him from victory. And though he tried, he had to settle for second place as Marquez took his second consecutive win of 2015, his seventh straight win at the IndyGP and gave Honda its 700th win too.
Behind in third place was the championship leader Valentino Rossi. It had been a tough weekend for the Italian, with a qualifying spot of eighth on the grid. Not something Rossi was pleased with. Indeed he'd been slow all through the race weekend, and he'd expressed some amount of worry and annoyance about that very fact. But when the race was on, Rossi played catch up. He worked his way up the order, and on the final lap swapped places with Dani Pedrosa, on the other Repsol Honda five times. In the end, he came out on top. A podium that enabled him to extend his lead in the championship standings. Rossi now has 195 points, with team-mate Lorenzo second with 186, and a rather hopeful young Marquez down in third with 139 points.
Pedrosa had to settle for a fourth place finish, with Andrea Iannone fifth. Bradley Smith finished sixth, pleased to outdo his team-mate Pol Espargaro who already has a contract for the 2016 season. Cal Crutchlow, Andrea Dovizioso and Danilo Petrucci completed the top 10.