MotoGP 2018: Marc Marquez wins the Malaysian GP
Repsol Honda's Marc Marquez took a stunning victory at the Malaysian Grand Prix in Sepang, one that was a result of a rare mistake by Movistar Yamaha's Valentino Rossi. As the lights went out, Rossi shot off the line from P2 to overtake poles sitter Johann Zarco and move into the lead, going into Turn One. The rest of the field then began chasing Rossi as 'The Doctor' put in some scorching lap times. Marc Marquez, meanwhile began picking riders one after the other to move up the order. He was hot on the heels of Zarco when an error by the Frenchman allowed Marc to move into P2.
At the halfway mark, questions about Rossi's YZR-M1's rear tyre holding up began popping up. The Yamahas have struggled throughout the 2018 season with rear tyre issues and despite showing strong pace in the initial part of the Races, the YZR-M1 struggled in the final laps. However, over the last couple of races, Yamaha seems to have found a solution and it was evident in Rossi and Vinales' pace with a few laps to go. Rossi, in fact, was lapping at a consistent pace and setting identical lap times. Marquez, however, could sense a win and began piling the pressure on Rossi. With four laps to go, Rossi made a tiny mistake, going into Turn One, causing his M1 to slide from underneath him. Marquez grabbed the opportunity to cruise into the lead to finish in P1. This was Marquez's 70th victory in his illustrious career and it also helped Honda seal the constructor's title for 2018. The Factory Suzuki's Alex Rins crossed the line in P2 followed by Tech 3 Yamaha's Johann Zarco.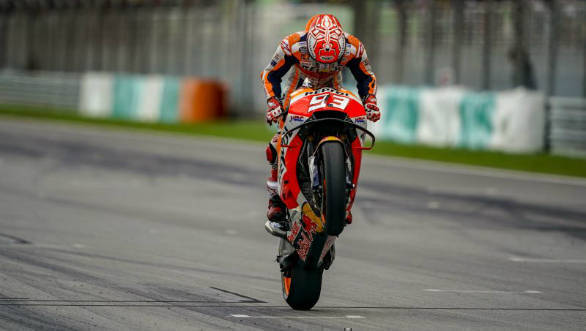 The Malaysian GP could have been the race where Rossi ended his winless streak since Assen 2017, but he is positive of the improvements to the M1 and hopes to perform well in future races.
The final race of the season will be held in Valencia, Spain in a couple of weeks.