MotoGP 2015: Marquez conquers Sachsenring in style
From the very beginning of the MotoGP weekend at Sachsenring, it looked like Marc Marquez was likely to deliver something of a stellar performance, what with him having dominated all the practice sessions and taken pole during qualifying too. So it wasn't too much of a surprise that young Marquez, twice world champion already, eagerly hunting down his third championship and hungry for victory after something of a dry spell in 2015, stepped smartly onto the top step of the podium. What made the day even more special for the Repsol Honda team was the fact that Dani Pedrosa took second place for the them. Third place went to Valentino Rossi, whose podium finish helped him increase his lead over Movistar Yamaha team-mate Jorge Lorenzo by a further thirteen points.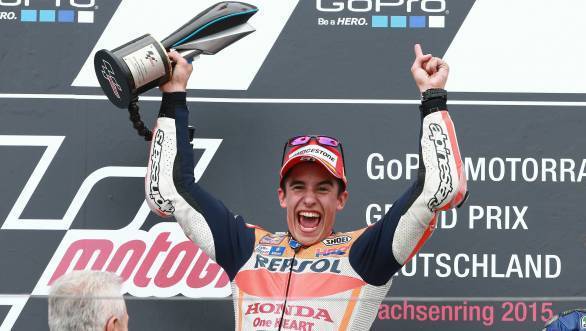 First victory since April this year for Marc Marquez. Doesn't he look pleased?
When the race started though, it was advantage Jorge Lorenzo. The rider made a terrific start, muscling his way past the Hondas of Marquez and Pedrosa. But there was little he could do to keep Marquez behind him, and on the fifth lap it was the Honda back in front.
Behind Marquez, a battle raged on between Lorenzo and Pedrosa for second place, while Rossi stalked his prey from fourth on the grid. Once he had made his way past Pedrosa, he began hunting down his own team-mate, who he eventually got past as well. They traded places once again, before Rossi finally made the move stick. His then set his sights on Marquez, however, with the Honda 2.5 seconds ahead, things could go either way.
Meanwhile, Pedrosa too made a move to get past Lorenzo, after which he hounded championship leader Rossi. It was on Lap 17 that he managed to get past Rossi. Marquez was four seconds ahead of his team-mate, with Pedrosa a few tenths ahead of the Yamaha.
Lorenzo finished a lonely fourth, with Ducati rider Andrea Iannone fifth, Bradley Smith sixth, Cal Crutchlow seventh and Pol Espargaro eighth. Danilo Petrucci and Aleix Espargaro rounded off the top ten.
Rossi now leads the championship with a total of 179 points, with Lorenzo second on 166, while Andrea Iannone with 118 is third. Marquez lies fourth, four points adrift of Iannone.