Mitsubishi plots revival with 'New Stage 2016'
Japanese carmaker Mitsubishi Motors Corporation (MMC), which has been struggling to stay afloat in a competitive market, has announced its new mid-term business plan titled "New Stage 2016" to spark a revival.
In India, Mitsubishi has discontinued a number of its products like the Lancer Evo, Cedia and the Outlander SUV. Even globally, Mitsubishi has been facing a tough time. Its problems have been compounded by the Japan Earthquake as well as the 2011 floods in Thailand.
Mitsubishi's lineup for the 2013 Tokyo Motor Show
Now, the company hopes to bounce back by utilising its pickup trucks, SUVs and crossover models as strategic products, while attempting to meet the growing need for eco-friendly technologies and safety technologies.
It plans to introduce new models of the Triton pickup, also known as L200 in some markets, and Pajero Sport, known as Montero Sport or Nativa in some markets. MMC is also working on the next-gen Outlander Sport, Delica D:5 and Pajero.
MMC is also focusing on is its '@earth TECHNOLOGY'. Like Honda's 'Earth Dreams', this is Mitsubishi's EV technology. It had also spoken of its 'electric car' plans with Renault Nissan. At the upcoming Tokyo Motor Show, it will reveal three concepts, namely GC-PHEV,  XR-PHEV and AR.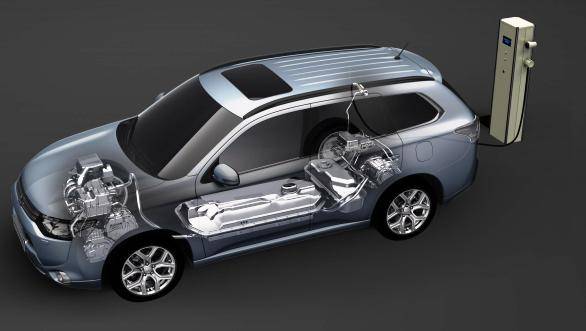 Mitsubishi's PHEV technology
The Concept GC-PHEV is a full-size SUV with AWD. It is a plug-in hybrid EV (PHEV) that gets a 3.0-litre V6 supercharged MIVEC engine with an 8-speed automatic transmission, with a high-output motor and a high-capacity battery. The Concept XR-PHEV is a compact SUV with front-wheel drive layout and PHEV system comprising a 1.1-litre direct-injection turbocharged MIVEC engine, a lightweight motor and high-capacity battery. Lastly, the Concept AR is a compact MPV that gets a lightweight hybrid system with a 1.1-litre direct-injection turbocharged MIVEC engine. These models will also introduce the world to the brand's newest safety and assist systems.
These steps taken by MMC will also be backed by the obvious restructuring, cost cuts, strengthening ties in prospective and focus markets. What needs to be seen is, whether this can actually turn the tide in the company's favour.