Michelin announces new airless tyre called Uptis, in association with General Motors
Michelin today announced a revolutionary new tyre prototype called the Uptis – Unique Puncture-proof Tyre System at the Movin'On Summit in Montreal, Canada. This airless wheel is being co-developed by Michelin and General Motor and is expected to be commercially available for passenger cars from 2024.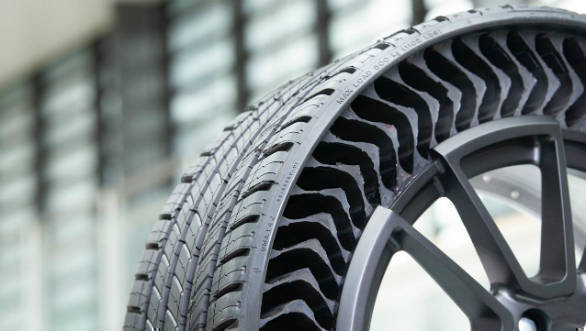 Based on the Tweel concept, the Uptis is a completely airless tyre that eliminates punctures, air pressure issues and blowouts. This makes it safer, more efficient and environmentally beneficial.
The Uptis prototype is built using three materials. Rubber for the tread, a unique resin embedded fibre glass for the reinforcement and aluminum for the wheel spokes. These ground breaking improvements in architecture and composite materials enable the tyres to take the load bearing stresses with little effort at high-speeds.
Presently Michelin is working along with General Motors to bring this tyre to market. Field tests will begin later this year on the Chevrolet Bolt EV. The tyre should be available commercially by 2024. The Uptis is also engineered to handle current production cars, but is fully capable of being compatible with future mobility solutions such as autonomous, electric or shared mobility services, thanks to its zero-maintenance character.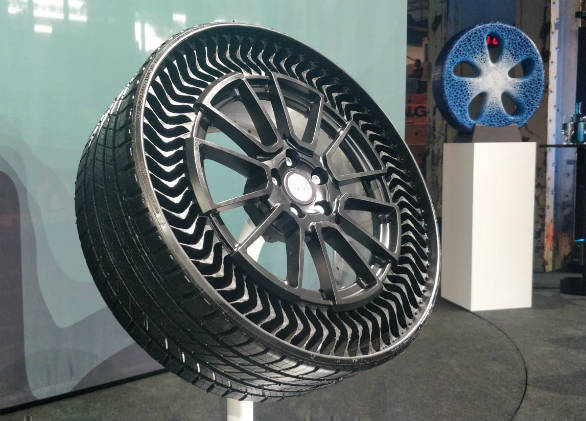 The Uptis also is the herald for further improvements in tyre technology, namely aiding in the development of the VISION concept. The VISION concept introduces four main pillars of innovation, airless, connected, 100% sustainable (entirely renewable or bio-sourced materials) and they can be 3D-printed! Presently there are more than 200 million tyres replaced annually across the world and with the VISION concept, Michelin hopes to reduce that number by a considerable amount, given the tyre will have a longer lifespan and be built using environmentally friendlier materials and practices.