Merzouga Rally 2017: Strong showing from Sherco TVS Racing Team
The final stage of the 2017 Merzouga Rally that was held over a loop of 50km rounded off a strong performance from the Sherco TVS Racing outfit. In the very last stage, that was held in a Motocross fashion, with all the motorcycles starting out at the very same time, the team's Spanish rider, Joan Pedrero Garcia took fourth place. Adrien Metge, from France, finished 11th. It was a good stage for the team's two Indian riders - Aravind KP and Abdul Wahid Tanveer. While Tanveer took 30th position in the stage, KP finished 36th.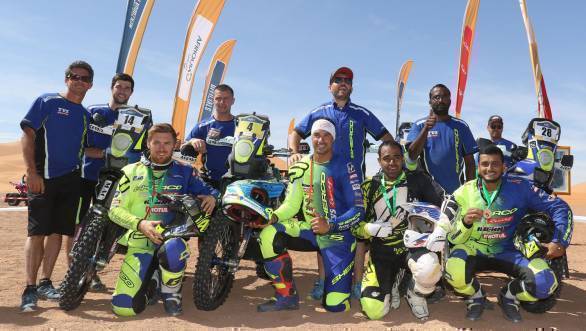 The Sherco TVS Racing team at the finish of the 2017 Merzouga Rally
Overall, the strongest performance over the course of the rally came courtesy Pedrero, who muscled his Sherco TVS 450 to fourth place overall in the event. Metge, who has ridden for the team in the highly daunting Dakar Rally, was plagued with problems, which resulted in him finishing no higher than 53rd overall.
Joan Pedrero Garcia took fourth place overall for Sherco TVS at the 2017 Merzouga Rally
It wasn't the easiest of rallies for the Indian riders, but both Aravind KP and Abdul Wahid Tanveer managed to cope with the challenging conditions rather well. Aravind finished the Merzouga Rally in 21st position.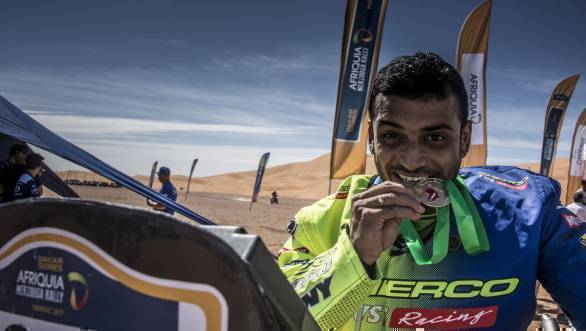 Aravind KP finished the 2017 Merzouga Rally in 21st position
Meanwhile, it was easily Abdul Wahid Tanveer who impressed the most. The rider, who won the India Baja prize that allowed him free entry to the 2017 Merzouga Rally and 2018 Dakar Rally, did extremely well in his first ever international rally. Even though the navigational challenges that the rally threw up were, at times, mindboggling, and even though the stages were seemingly impossible, Tanveer gritted his teeth and powered right through. He managed to end the Merzouga Rally in 27th place overall. The fact that he's finished it means that he's eligible to compete in the Dakar Rally, and we're honestly hoping that he makes it to South America to do just that!