Mercedes-Benz commences 3rd edition of Brand Tour in India
Mercedes-Benz India has launched the 2019 edition of its Brand Tour programme, which is the car manufacturer's unique connecting initiative for Tier II and Tier III cities in the country. This edition has already begun its journey from Ghandhidham, Gujarat and will travel to 25 locations to commemorate the 25 years celebration of Mercedes-Benz in India. These locations include Anand, Varanasi, Amravathi, Panipat, Amritsar, Tirupur, etc. The Mercedes-Benz Brand Tour aims to offer a brand experience by giving test drives, off-road driving experiences and also putting its popular offerings on display. It will also have certified pre-owned Mercedes-Benz cars along with teams who will offer financial services to the interested customers.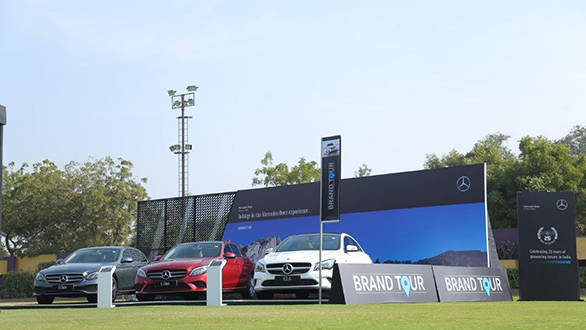 "With 'Best Never Rest' as our motto for 2019, we aim to further deepen our commitment towards our patrons in the Tier II and Tier III cities of India. The focus of this unique 'Brand Tour' experience is to reach out to potential customers in these emerging markets, who aspire to own a Mercedes-Benz. Mercedes-Benz is synonymous with customer centricity and Brand Tour is one such concept, which helps create a stronghold in the potential Tier II and III markets. This is the 3rd edition of Mercedes-Benz Brand Tour and we are confident that the initiative will help the brand to further expand its footprint and penetrate deeper into the dynamic Indian market. It will remain our objective to expand our network beyond the metros and develop the market." commented, Martin Schwenk, Managing Director and CEO, Mercedes-Benz India
With the growing demand from Tier II and tier III cities in India, Mercedes-Benz hopes the Brand Tour programme can offer a near identical experience of an authorised dealership with the help of branding and audio-visuals at an accessible location for the brand's prospective clientele. Mercedes mentions, the locations of Brand Tour are selected strategically based on the demand and growing affinity for luxury marquee in India's emerging cities.