Mercedes-AMG GT unveiled
What a fantastic month it's been. Fast KTMs, elite Aston Martins, rebornand now this, the Mercedes-AMG GT. The AMG GT is the second car to be built completely by AMG after the SLS and serves as a replacement to the already iconic gull-winged sportscar that wowed the world when it debuted in 2009. The AMG GT carries on the SLS's spirit but is a smaller and lighter version of the big grand tourer cum sportscar it replaces. The Mercedes AMG GT (Benz has been dropped from the name) replaces the SLS AMG but it now targets a new market - the Porsche and Jaguar buyer.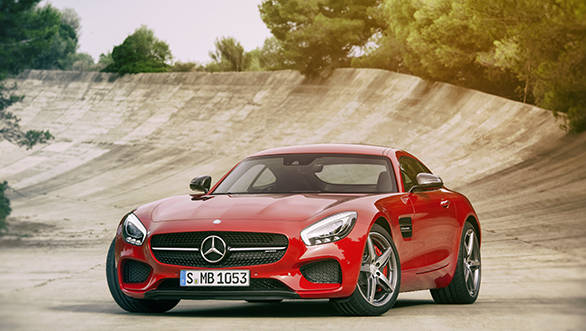 The new design is very much reminiscent of the SLS with a long bonnet and squat rear leading to that classic hot-rod shape. But there are plenty of new elements as well. The bumper design has those flares seen in newer AMGs like the E 63 while the headlamps are a much nicer, more aggressive version of the ones on the SL. The side profile is largely dominated by that achingly gorgeous long bonnet but let your eyes move to the window line and you will see quite a bit of the 911 in there. The rear again is reminiscent of the SLS but with thinner lamps and a more athletic look overall. An electronic spoiler emerges when the speeds rise and hides away when not required, to keep the rear design clean and uncluttered.
The AMG GT will come with the brand new 4.0-litre V8 engine in two flavours. This is the first dry sump production V8 where the turbos nestle between the banks of the cylinders. Mercedes claims this gives the engine very high levels of response. The 'base' car will get a 462PS version while the range topping AMG GT S will get the full cream 510PS version. Both cars run a 7-speed dual clutch transmission sending power to the rear wheels. Mercedes claims the faster GT S will sprint from 0-100kmph in 3.7 seconds before it hits an electronically limited top speed of 310kmph. The GT will take 3.9 seconds and is marginally slower, with a top speed of 304kmph.
 The AMG GT S will go on sale next year while the lower powered GT will be offered in 2016.
Price (Ex-Delhi)
Starts Rs 95.12 Lakhs
Price (Ex-Delhi)
Starts Rs 2.27 Crore
Price (Ex-Delhi)
Starts Rs 1.38 Crore