Mahindra Racing celebrates 100th GP start at Misano this weekend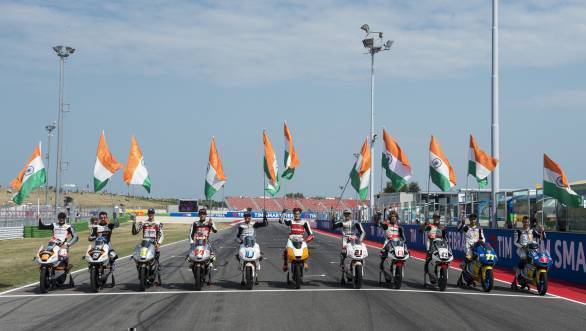 Mahindra Racing riders celebrate the company's 100GP starts at Misano this weekend
The only Indian constructor competing in Grand Prix motorcycle racing, Mahindra Racing, celebrates it's 100th race start at the Grand Prix of San Marino and Riviera di Rimini. The event marks a milestone for the Indian company, who first debuted in the MotoGP series' 125cc class back in 2011.
Just ahead of the second Moto3 free practice session at Misano, Mahindra celebrated the occasion, with all 11 MGP3O riders taking to the track for a parade lap. Each rider carried an Indian flag on this lap. Of course, of the 11 motorcycles, two were in the colours of Mahindra's sister brand, Peugeot Motorcycles.
The 2016 season has been the constructor's most successful season so far, with one pole position, two wins and a total of seven podium finishes. The growth and progress made by Mahindra Racing over the past five years has been significant, which also indicates good things to come in the future.
Also at Misano to see the results of their hard work, were the engineering team from Mahindra's technical development centre in Besozzo, Italy. Nearly all of the Mahindra Racing staff are also at Misano to witness their 100th GP start. All the MGP3Os at the track will bear stickers saying "#100atMisano", while wildcard entry Stefano Manzi will ride a motorcycle painted in the colours of the Indian flag.