Mahindra debuts two EV sub-brands, five EV concepts, launch from December 2024
Mahindra today made the biggest play yet by an Indian carmaker in the EV space while announcing its electrification plan for the next decade. The company will launch two new EV sub-brands, XUV and BE, while also revealing five EV concepts which will launch between 2024 to 2026.
Mahindra XUV and BE electric brands, products, launch dates explained
These five new EVs will be sold across two new EV-only sub-brands. The first of these is XUV and ties in with its existing XUV range of premium SUVs. Here, the Twin-Peaks logo will be finished in copper and the EVs here will be a more futuristic take on current Mahindra offerings focused on its existing buyers.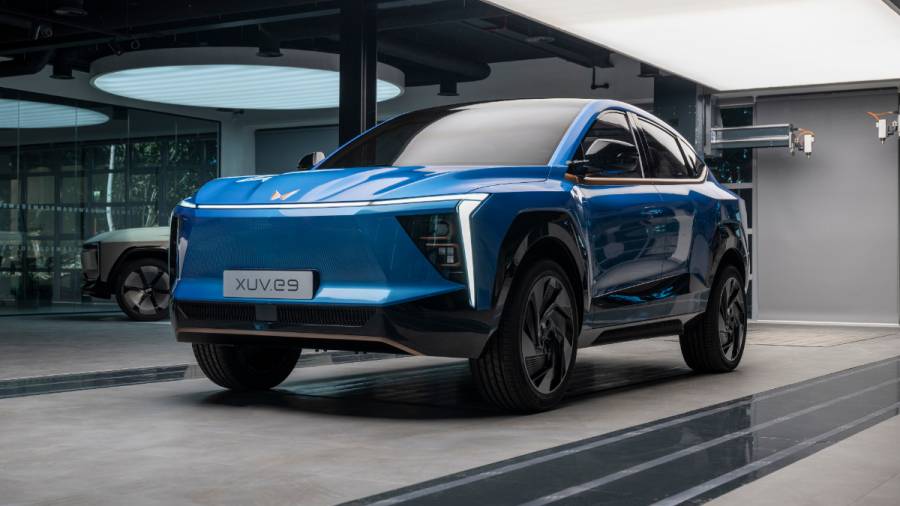 Mahindra XUV.e9
These XUV branded EVs will come to market first starting with the XUV.e8. This SUV will launch in December 2024 and will be 4740 mm long, 1,900mm wide 1,760 mm tall with a 2,762 mm wheelbase. The XUV.e8 will come with AWD and many of the technologies listed below. Following this will be the XUV.e9. This should be a coupe-SUV derivative of the XUV.e8 and come with a longer 2,775 mm wheelbase and a large panoramic sunroof.
Mahindra BE.05
Following these will be products from the BE brand. These will be more lifestyle offerings, less in line with current Mahindras. These should be more premium offerings and offer a sportier or more upmarket driving experience, also expressed by their more outward design language. The first launch from this brand will be the BE.05, which is a smaller Creta-sized coupe SUV that is aimed at a more enthusiastic buyer, slated for an October 2025 launch. This will be 4,370 long, 1900 wide and 1635 mm tall. Following this will be the BE.07. This will slot in betwen the BE.05 and the XUV models and be of a more traditional SUV shape. Finally, there will be the BE.09. This will be a larger car for four passengers focused more on long-distance comfort. The BE.05 will launch by October 2025 while a launch timeline for the BE.09 hasn't been decided.
Mahindra INGLO architecture, EV range, battery,  charging
At the core of these five offerings with be a ground-up new EV architecture which Mahindra calls INGLO. This architecture will be one of the lightest skateboards around and will be fully modular and scalable to fit a range of models. Volkswagen will supply various components for the INGLO architecture.
Mahindra will equip these EVs with LFP batteries. These battery packs will be of a common design and carry standardised cell-to-pack technology but will be scalable for size between 60 to 80 kWh. The battery packs will use the newest blade and prismatic battery architectures to optimize energy density and safety. These batteries will be able to charge at up to 175 kW, good for an 80 per cent charge in 30 minutes. The battery management system has also been designed to maximize range, longevity and safety.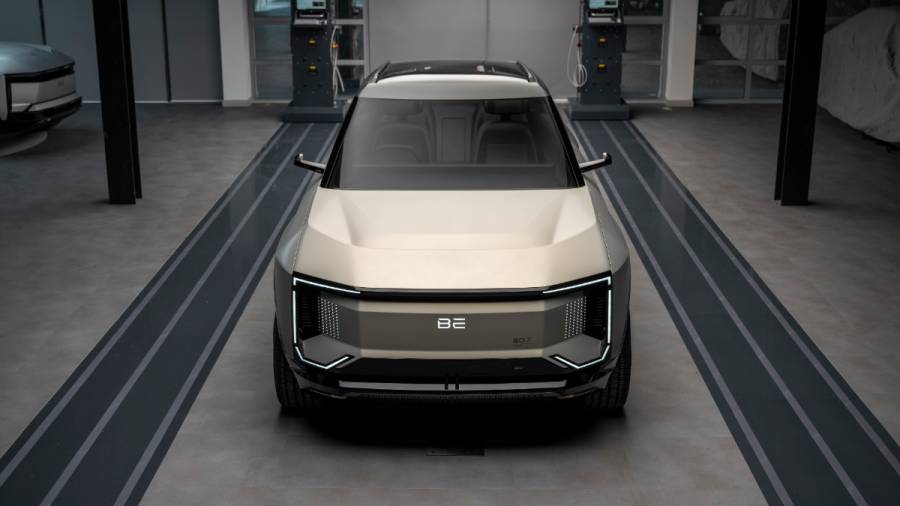 Mahindra BE.07
As for range, Mahindra EVs based on the INGLO architecture will offer a high level of regen and as with most EVs aerodynamics will be enhanced as well and low-rolling resistance tyres will be used. There will also be zero-drag wheel bearings and high-efficiency cooling and HVAC systems to further improve efficiency. The EVs equipped with AWD will have a WLTP rated range between 435 to 450 km.
Mahindra INGLO architecture
In terms of performance, these Mahindra EVs will be powered by either single or dual-motor set-ups. This integrated motor-inverter-transmission unit will put out 231PS to 285PS in rear-drive form and 340PS to 395PS in AWD form. This will make these Mahindra SUVs quick by any standard, with 0 to 100 kmph times between 5 and 6s. This performance will be complemented by a semi-active suspension system that will be focused on an engaging driving experience. There will be drive modes that can change powertrain and suspension responsiveness, change brake feel, and optimize electronic stability control intervention to match driving conditions. Aside from these drive and terrain mode, there will also be a performance Thrust mode.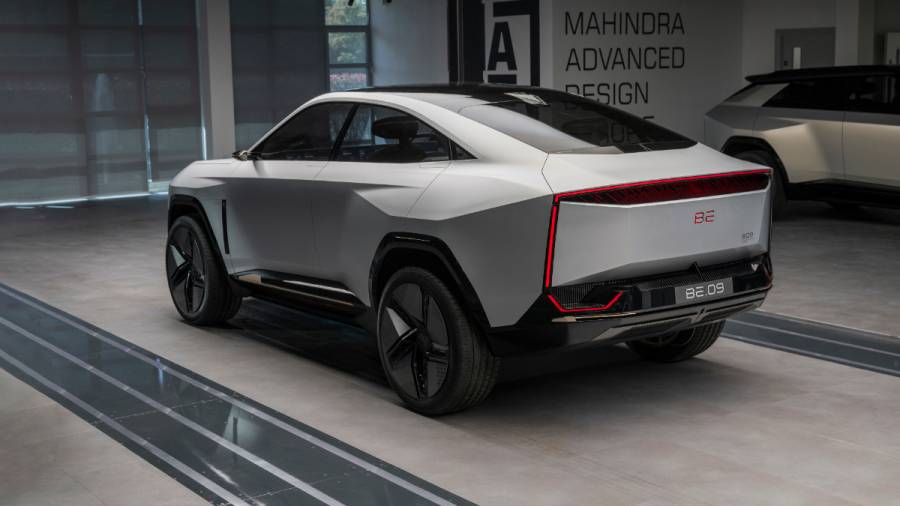 Mahindra BE.09
Mahindra EV safety
Mahindra promises its electric SUVs will meet or exceed the top global safety standards like GNCAP. There will be a structural cage around the passenger cabin to reduce injury while the battery will be protected by a high-strength boron-steel structure. Further, the body-in-white of these EVs will have three load paths and a multi-piece dash panel to further improve safety. There will be 218mm of battery ground clearance as well as a 20 degree ramp over angle.
Expectedly, there will be a full suite of ADAS technology to go with this with Level 2+ autonomy. These SUVs will be equipped with five radars to achieve this.
Mahindra XUV, BE EV design, interiors
The Mahindra XUV and BE electric vehicles will debut a new Heartcore design theme. This still retains a rugged SUV look so far known of Mahindra cars but has evolved into a more sophisticated look with the sharply cut body panels, the abrupt body panels and slim lighting elements. Most of these SUVs seem to have ditched the traditional SUV shape for a more coupe-SUV stance with sharply raked rooflines.
Mahindra BE.05 interior
As for the interiors of these Mahindra SUVs, there will be flat floors and slim dashboards for the typical minimalism seen in EVs these days. There will also be a frunk as well as a vehicle to load function. The infotainment and onboard systems in these INGLO-based EVs will be powered by three computers with OTA updates. There will be built-in AI as well as 5G connectivity along with dual-octa core processing power, augmented HUD and twin full-HD displays of 12.3 inch size.
Also read,
2022 Mahindra Scorpio Classic unveiled with new engine, suspension
Mahindra Scorpio-N garners 25,000 bookings within 1 minute and 1 lakh registrations within 30 minutes
Price (Ex-Delhi)
Starts Rs 12.4 Lakhs
Price (Ex-Delhi)
Starts Rs 11.99 Lakhs