Lego replica of the Ford GT on display at Le Mans 2016
A Lego version of the Ford GT, scheduled to race at the Le Mans 24 Hours, will be on display on 18 and 19 June at the Circuit de la Sarthe in France. An actual Ford GT40 will be displayed alongside to commemorate the 50th anniversary of the car's legendary 1-2-3 race finish.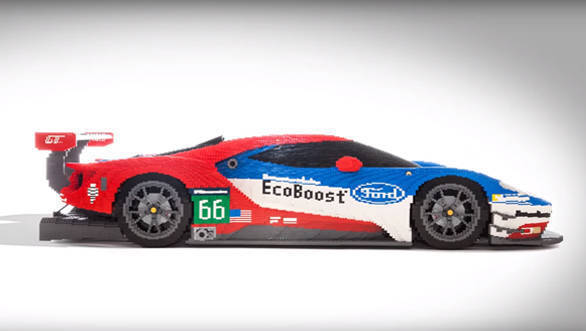 The Lego replica of the car is one third in size of the real car and was build using 40,000 pieces over three weeks by a professional Lego model builder named Pascal. It sports a 66 number decal on the sides hinting the year 1966 of the original victory. Pascal revealed that once he was done with a 3-D computer model of the replica, he built it from the ground up using Lego pieces of different shapes and sizes. He added that the stickers and logos on the car posed the most difficulty due to their intricate design.
In the 84th installment of the 24 hour race Ford Ganassi Racing is competing with two Ford GT's in the FIA World Endurance Championship and additional two in the IMSA Weather Tech Sports Car Championship.
The two WEC Ford GTs will retain their #66 and #67 race numbers, while the IMSA cars become #68 and #69, celebrating Ford victories in 1966, 1967, 1968 and 1969 in Le Mans.