Lamborghini unveils Veneno Roadster
Lamborghini has unveiled a new limited edition car, a roofless version of the Veneno Coupe. The Lamborghini Veneno Roadster will be a limited edition with only nine units coming out of the Sant'Agata Bolognese facility next year.
The Veneno Roadster is clearly an 'open' racing car. It is powered by a 6.5-litre V12 that delivers a massive 750PS of power and goes from 0-100kmph in just a claimed 2.9 seconds while reaching a top speed of 355kmph. It is also equipped with the fast-shifting ISR transmission with five modes, permanent all-wheel drive and a racing chassis with pushrod suspension and horizontal spring/damper units. On the safety systems front, Lamborghini has equipped the Veneno Roadster with airbags and ESP.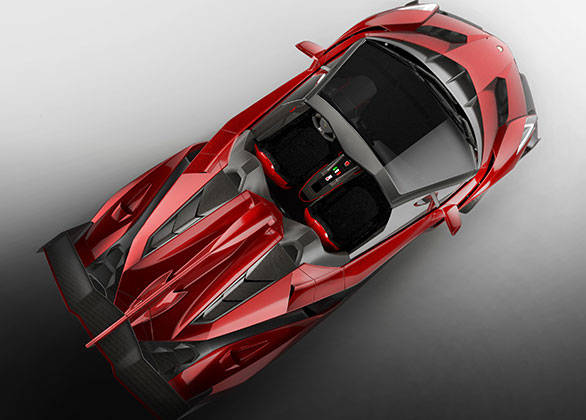 The Veneno Roadster looks typical Lambo-- focussed on aerodynamics with sharp creases, surfaces and arrow-shaped front end.  The extensive use of carbonfibre and the lightweight seats keep the overall weight down to 1,490kg. The carbon-fibre ring around the specially designed alloy wheels help direct cold air on the move to further cool down the carbon-ceramic disc brakes.  The 'Rosso Veneno' is the paintjob specifically meant for the Roadster but in typical Lamborghini style, the customers can also choose to customise their own units.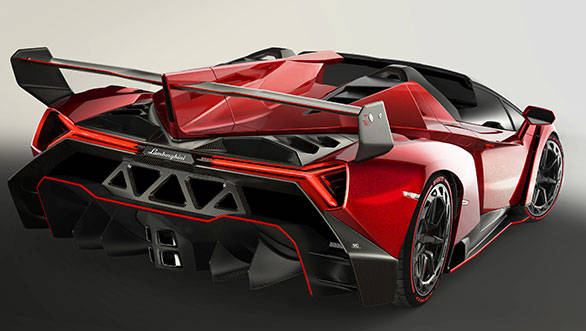 This extremely exclusive version which is part of Automobili Lamborghini's 50th anniversary creations will be priced at a whopping $4.5 million minus taxes.