Lamborghini Huracan and its supercar rivals
The Lamborghini Huracan LP 610-4, which was unveiled on December 20, is a mid-engined supercar and like its predecessor, the Gallardo, it has three natural rivals. Here's a quick overview of each and their strengths and weaknesses against the latest angry bull.
Lamborghini Huracan
You can read all about the Huracan here but here's a quick recap. The car uses the same 5.2-litre V10 from the Gallardo but power has been bumped up to 610PS from 570PS. It continues to use all wheel drive but Lamborghini have dropped the automated manual for a 7-speed dual clutch transmission. Claimed figures a 3.3 seconds to 100kmph and a top speed of over 325kmph.
Engine: 5.2-litre V10
Power: 610PS@8250rpm
Torque: 560Nm@6500rpm
Kerb weight: 1422kg
Price: NA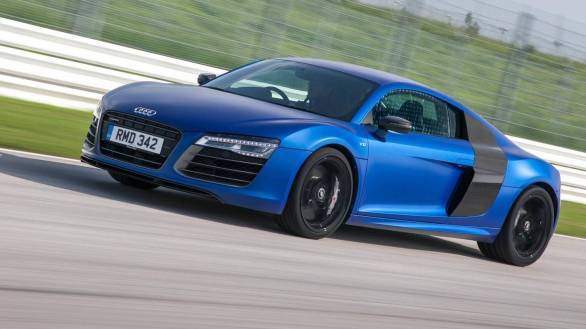 The Audi R8 is a close relation of the Gallardo and it thus is the most similar of all these cars to the Huracan. It is the only car here that features all wheel drive like the Lambo. The R8 essentially uses the same 5.2-litre V10 engine but it has traditionally made less power than its Lamborghini counterpart. In the latest R8 V10 Plus it makes 550PS which is good for a 0-100kmph run of 3.7 seconds and a top speed of 318kmph. So it may be the slowest car of this lot but it also happens to be the cheapest, by quite a margin.
Engine: 5.2-litre V10
Power: 550PS@8000rpm
Torque: 540Nm@6500rpm
Kerb weight: 1390kg
Price: Rs 2.14cr ex-Delhi
Ferrari 458 Italia
This Ferrari has widely been accepted as the best car in its segment. Beneath the gorgeous styling lies a high revving flat crank V8 that belts out 570PS at a mental 9000rpm. Power is sent to the rear wheels through a seven speed dual clutch transmission. Ferrari claim, 'less than 3.4 seconds' to 100kmph while top speed is exactly what the Huracan claims – 'more than 325kmph'.
Engine: 4.5-litre V8
Power: 570PS@9000rpm
Torque: 540Nm@6000rpm
Kerb weight: 1380kg
Price: Rs 3.27cr, ex-Delhi
 McLaren 12C
The McLaren 12C is the newest of the competition and it's a technical masterpiece. The chassis is a complex and lightweight carbon tub that's so capable that the company found it works perfectly even for the 916PS P1 hybrid hypercar. The V8 engine is the smallest in terms of displacement but makes the most power (625PS) thanks to twin turbochargers. 0-100kmph takes the same 3.3 seconds but it boasts the highest top speed of 333kmph. These are all small differences but they make all the difference in the hyper competitive world of supercars.
Engine: 3.8-litre twin turbo V8
Power: 625PS@7500rpm
Torque: 600Nm@3000-7000rpm
Kerb weight: 1336kg
Price: Rs 1.7cr (before import taxes and duties)
Price (Ex-Delhi)
Starts Rs 3.21 Crore
Price (Ex-Delhi)
Starts Rs 2.55 Crore