Ladakh and Arunachal Pradesh get eight new bridges each, to facilitate faster military movement
Eight new bridges were recently inaugurated by the Defence Minister Rajnath Singh in Ladakh and Arunachal Pradesh each. This was done along with adding 28 bridges at the border sectors. These 44 bridges have been positioned in a strategic manner along the western, northern and north-eastern borders. To be precise, there are 10 in Jammu and Kashmir, two in Himachal Pradesh, four in Punjab, eight each in Uttarakhand and Arunachal Pradesh and four in Sikkim.
Additionally, Rajnath Singh has laid the foundation stone for Neciphu tunnel in Arunachal Pradesh on the road to Tawang in Arunachal Pradesh. This 450 mtrs long, bi-lane tunnel would ensure all weather connectivity across Nechiphu Pass besides providing a safe and secure passage through accident-prone areas.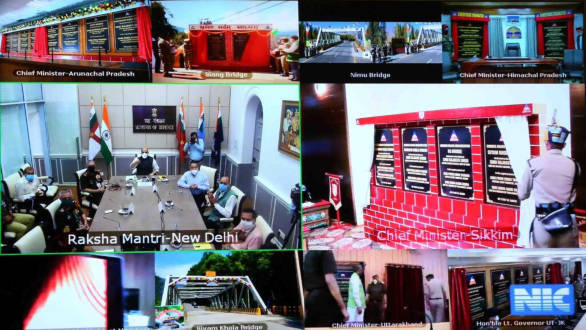 This comes at a time when both the countries, Indian and China, are going through serious tension at the Line of Actual Control (LAC) in eastern Ladakh. It is the Border Roads Organisation that has constructed these bridges across seven states and union territories. The group has already made close to 10 bridges in Eastern Ladakh last year. These bridges measure 30m to 484m in length and were built on steep slopes and on an inclined approach. The Defense Minister also stated that the annual budget of BRO that varied from Rs 3,300 Crores to Rs 4,600 Crores in years 2008-2016, saw a substantial rise and is pegged at over Rs 11,000 Crores in 2020-21. There was no reduction of this budget despite COVID-19.
Explaining the main intention behind these new bridges, Director General of BRO Lt Gen. Harpal Singh states, these will not only facilitate faster movement of heavy civil and military traffic in the border areas but also provide connectivity to the border population and aid in the faster deployment of troops when needed in sectors of strategic importance.