Kia to reinvent and relaunch brand, new logo coming in early 2021
Kia will officially roll out its Plan S (Shift) campaign in 2021, beginning with a brand new highly stylised logo set to grace Kia's first ever dedicated electric vehicle, the CV crossover which will be revealed in early 2021. The logo, as previewed on the Imagine by Kia all-electric concept shown at the 2019 Geneva motor show, ditches the signature oval border and is meant to signify Kia's new priorities, namely a quantum shift to electrification.
With it, Kia plans to add 11 new EVs to its lineup by 2025, a more ambitious goal than its sister company Hyundai, with which it shares its pure-electric chassis architecture, the Electric-Global Modular Platform (E-GMP) which will underpin all future Hyundai Group models. Under Plan S, Kia is aiming for a 6.6 per cent global EV market share, and reach 25 per cent of its total sales via eco-friendly models. Kia also plans to nurture "key developed markets" as major bases for its EVs, while offering derivative electric models with differentiated pricing and specification - pointing to greater diversity overall. The total planned investment to undertake Plan S stands at $25 billion, until the end of 2025.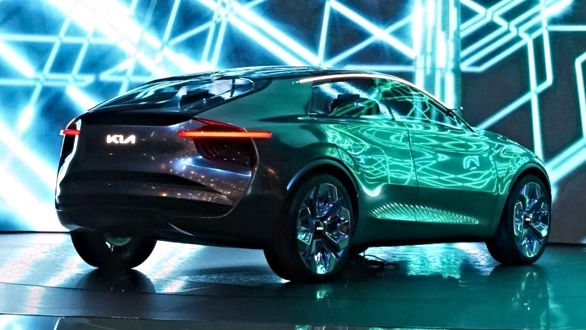 The Imagine concept previews Kia's first dedicated all-electric crossover codenamed the CV (the e-Soul and e-Niro also have non-electric variants), set for an international launch in 2021. The Imagine concept also hints at the distinct design direction, both outside and in the cabin, that Kia's upcoming range of EVs will follow, which includes a complete reimagining of Kia's signature tiger nose grille, across the entire fascia.