Kar-Worx in Mumbai launch Williams F1 car detailing service and products
Kar-Worx, a Mumbai-based car service centre have launched the Williams F1 team ceramic coating  for cars and motorcycles at the recently concluded Parx Supercar Show. The company claim that the ceramic coating provides major benefits over the standard  Teflon coating usually opted for.
Ceramic coating is claimed to bind with the paint's polymers to create a layer which is two microns thick - this is a hundred times thicker than the 0.02 microns of a plain Teflon coat. This ensures that the paint job on your car is protected against elements such as sunlight, road grime, exhaust fumes and tree sap. The ceramic coat also prevents swirl marks and stone chip damage on the paint.
Kar-Worx say that every time you get your car polished, the thickness of the paint reduces, making the paint surface eventually wear out, thanks to the effects of the environment. But the Williams F1 ceramic coat service comes with a five year guarantee. You also get a maintenance kit for that period which ensures that the paint gloss stays the way it does right after coating. The ceramic coat can also be used for your shiny alloys which are susceptible to brake dust and dirt after which, a simple wash and wipe can restore the sparkle on those wheels.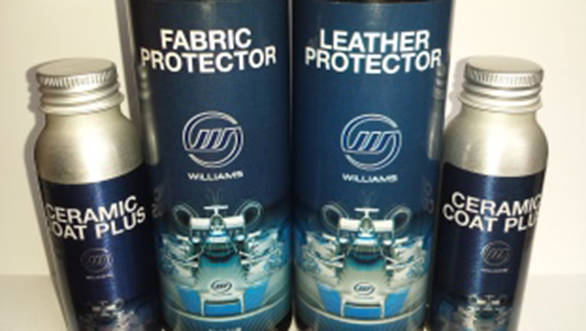 In addition to exterior coating, the company also launched the ceramic coat interior treatment service to provide protection against spillage on light-coloured fabrics inside cars. A ceramic coat over the interiors provides the convenience of simply wiping the stain off with a micro-fibre cloth since the ceramic coat prevents absorption of liquids into the carpet or seat fabric.
The company state that opting for the coating service can reduce maintenance bills. Also, if you sell your car within five years of the treatment, the warranty can be carried over.
Kar-Worx have also launched the Heyner brand of  wiper blades which come with a universal adapter for Indian cars. The blades are tested for over 18 lakh swipes, according to the company, and operate noiselessly without leaving streak marks. A calcium-calcium car battery by Varta, also included in Kar-Worx's product line-up, promise longer life than standard car batteries. Kar-Worx claim that the battery doesn't self-discharge when not used, even for an entire year.
Watch the following videos to learn more about Williams F1 ceramic coating:
 Williams F1 ceramic coat introduction
You can contact Kar-Worx, Mumbai at :
+91-22-40028004/5
Kar-Worx willaims f1 coat
KAR-WORX & SPA AT THE PARX SUPER CAR CLUB 2015 13th January, 2015, Mumbai: The recently concluded high octane super car show held at the Mahalaxmi Racecourse was a super success with around 100 super car participants and for the first time, 20 super bikes. The atmosphere over the two-day weekend show was filled with grunting exhausts and deafening engines. Kar-Worx & Spa hosted a stall at the show launching Williams F1 Ceramic and Synthetic Coatings for cars. This Nano technology product was initially used on NASA satellites and US Defense Contracts, after it's success, Williams F1 along with Ultimotive rebranded it for cars. All of Williams Formula One racecars are coated with the Ceramic coating. As a part of the launch, we had Ceramic coated a Mercedes E250 (exterior & interior) which was on display at our stall. The Williams Ceramic coat is new to the Indian market, Kar-Worx being the exclusive distributor; we had live demonstrations of its unrivalled quality. DEMO 1- Half of a hood was coated with Williams Ceramic Coat and the other half was untreated. We demonstrated with a marker by going over the untreated region through the treated showing how the marker quickly absorbs into the paintwork of the untreated side and in contrast, beads on the treated surface without penetrating into the paint allowing it to be simply wiped off with a microfiber cloth. The untreated side was left smudgy, which in general cases would have to be polished or repainted. DEMO 2- A cigarette lighter pounded on the treated and untreated surface obviously leaves small scratch marks. The Ceramic coated side has a self-bonding property, which seals itself when wiped with a microfiber cloth. Whereas the untreated surface left a scratch that would be permanent till the car gets polished or in some cases painted. DEMO 3- A Ceramic coated microfiber cloth was tested with water, which on the treated side started beading without getting absorbed into the fabric pores. This helps the interiors of the car against spillage of: - Soda, juices, etc - Tea/ Cofee - Ice-cream - Baby drinks - Environmentally friendly without leaving behind any harmful odour Every time a car is polished, the thickness of the paint gets cut, causing the original colour to gradually fade allowing minor scratches and stones to chip the paint. Ceramic coat creates a hard layer on the car protecting the original paint and gloss. Swirl marks, minor hairline scratches start showing up on cars barely a fortnight after leaving the showroom/ service centre. With this product, the car owner can retain the resale value without bleeding time and money on its maintenance. The product is also suitable for used cars. Any scratches or swirl marks will be corrected by Kar-Worx before application of the Ceramic Coat. The product unlike a Teflon coating binds with the polymers of the paint to create an extremely durable surface on top of the paintwork. It is 2 microns thick as compared to a regular coating, which is barely 0.02 microns thick. This adds to the resistance of these coatings against: - Road Grime & exhaust fumes - Bird Lime - Tree Sap - Sunlight (Ultraviolet rays) - Extreme weather conditions Advantages to car owners: - Low maintenance burden post coating - Restore the original car paint, hence higher resale value - Save money and time on detailing cars every six months - Williams F1 brand comes with credibility and quality - Ceramic coating gives a 5 year guarantee and Synthetic coating gives a 3 year guarantee - The service is transferable in case of sale of car - 5 year basic upkeep and gloss enhancement to be provided by Kar-Worx for Ceramic coating and 3 year for Synthetic coating - Service covers Exterior as well as Interior of the car including trunk, engine compartment, glass, alloys, plastic parts, etc. - Does not change feel and look of leather, fabric or the exterior of the car However, the coatings are not recommended for front and rear windscreen. Apart from Williams Ceramic Coats, Kar-Worx also launched two other key products: - Heyner Wipers: High quality german flat-bed wiper brand comes with a universal adapter that suits all cars, these wipers have been tested over 18 lakh times to be streak & noise free. Starting price is approximately Rs. 600/- a pair and can go upto Rs. 3,500/- for certain models. - VMF battery: From the makers of Varta (OEM for Mercedes and Audi), comes a new technology of Calcium/Calcium batteries that do not self-discharge even after a year of inactivity. These are environmentally friendly and maintenance free at a more competitive price. Super car participants, car owners and the media showed good interest in the products with several enquiries. Managing Director, Mr. Rishab Bafna quotes, "Kar-Worx team is extremely happy with the response these products have received. Super Car Club was a good platform to interact with potential customers and get their feedback on the product. We look forward to the 8th edition of the Super Car Club and Williams foray into the Indian market."