June 2015 issue of OVERDRIVE out on stands now
This issue of OVERDRIVE is an exercise in contradictions. For starters, here is an oxymoron – a mass market Jaguar. The smallest new feline, the XE, is potent enough on the road and the track, but does it have all it needs to be cat's whiskers in the entry level luxury segment? Bert finds out.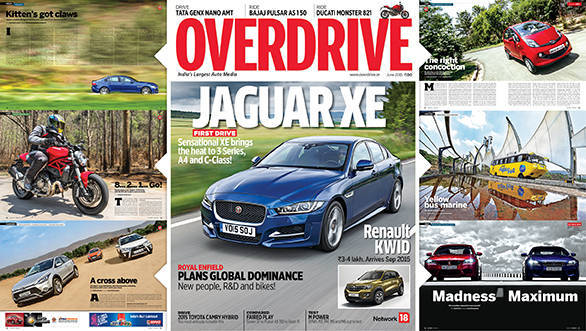 Then there's the great little car for the masses, the Renault Kwid. With its SUV-esque looks but hatchback-esque pricing, it's bound to stir up quite the storm. Team OD gives you a full report, of course. Here's another paradox – an automatic car for the masses. Jamshed drives the AMT-equipped Nano which finally sheds its One Lakh Car label.
Then there's a superb luxury car that's not a Deutscher, the Toyota Camry, which turns out to be quite a comfortable ride – Rishaad-san says arigato. Meanwhile, Shumi-san says Konnichiwa to the faired and lovely Suzuki Gixxer SF but not without pitting her against her homie, the Yamaha Fazer FI.
But the Germans can be such fun, says Halley, after testing the BMW M3 and M4. A very jittery Alan agrees with him feverishly - caffeine and 560PS from an M5 and M6 driven back to back can do that to you. Add to that, a ride in a bus that drives on water. All this makes Rishaad seem a lot more solemn as he goes on to drive the new i20 Active along with the Fiat Avventura and the Toyota Etios Cross to crown the reigning champion of the current crossover segment.
Once upon a time, Yamaha's R15 was queen bee in its own segment. New girls RC 390 and Pulsar RS200 get together in a true OD-style showdown to see if that's just a fairing tale now. More Pulsars join in on the fun, with the AS' 150 and 200, meant to 'massify' the Adventure Sport segment. Shumi rides them to find out if that's at all possible.
But we at OVERDRIVE know that new isn't always better – Bob Rupani pays tribute to old classics through a series of black and white pictures of car graveyards. Rishabh Bhaskar shares the sentiment as he befriends an MM550 while at school to learn how to off-road like a boss.
Range Rover steps up the game with a 9-speed gearbox in the Evoque, without compromising on the price. In fact it's now Rs 30 lakh cheaper. Rishaad Mody gets excited again. Vaishali's excitement over the Government's re-recognition of motorsport though doesn't last too long. She elaborates why in a detailed analysis. But nothing seems to darken Shumi's perpetual optimism – no thanks to an interview with ex-Gran Prix motorcycle racer Graeme Crosby and a ride on the Ducati Monster 821 – something you're going to want, very badly.
All this and more in this issue of OVERDRIVE.
Price (Ex-Delhi)
Starts Rs 4.5 Lakhs
Price (Ex-Delhi)
Starts Rs 41.7 Lakhs
Price (Ex-Delhi)
Starts Rs 10,99,000
Price (Ex-Delhi)
Starts Rs 1,11,871
Price (Ex-Delhi)
Starts Rs 1,00,212
Price (Ex-Delhi)
Starts Rs 1,43,680