JK Tyre National Karting Championship: Donison claims Senior Max title
The second day of the 13th JK Tyre FMSCI National Rotax Karting Championship kicked off with the warm-up sessions at the Mohite's Racing Academy in Kolhapur. Each ten minute session, gave the drivers of the different classes the chance to give their karts a shakedown and to make any adjustments if necessary.
After which, the racing began. With the pre-final race of the Micro Max class taking place first. After the qualifying session and the two heats that took place on day 1, Shahan Ali Mohsin of Meco Motorsport would start on pole, followed by Aadityansh K of Mumbai-based Rayo Racing, while Arjun Nair of Meco Racing would line-up in third. As the race began, it was clear that Shahan Ali would win without much contention. The real surprise was Ruhaan Alva, of Birel ART who started way back in sixth position. Having managed to work his way up the grid, he eventually overtake Aadityansh K to take second. Just 1.585 seconds behind Shahan Ali.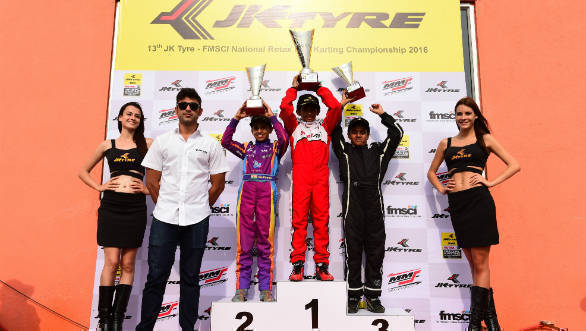 Ruhaan Alva won the Micro Max class final race, ahead of Championship winner Shahan Ali Mohsin and third place Arjun Nair
In the Junior Max class, Chirag Ghorpade of Bangalore-based BPC Racing started on pole, followed by heat 2 winner Mira Erda of Erda Racing, and Nirmal Umashankar of Meco Racing. Erda snagged the lead going into the first corner, but was sandwiched by Ghorpade and Umashankar going into turn two. This led to her eventual retirement as her rear bumper had come apart and was being dragged along the track. Manav Sharma of BPC racing who started from fourth position took the chequered flag with Jonathan Kuriakose of Rayo Racing taking second and Pradyumna Danigond of local team Mohite's Racing coming home in third.
The Senior Max class pre-final race was next to get underway. Defending Champion Ricky Donison of BPC Racing started on pole, followed by local boy Dhruv Mohite, and Nayan Chatterjee of Meco Racing. Donison took an early lead, but was overtaken on lap two by Mohite. Mohite's carburettor was acting up before the start, although not having an effect his race pace. Once Donison got into the groove, he was unstoppable. Taking the lead of the race back from Mohite, he opened up a 9.891 second gap over the course of the remaining laps. Further down the field, Nayan Chatterjee and Vishnu Prasad of Meco Racing had their own duel going on. With Nayan eventually coming out on top, then proceeding to chase down Mohite. The two crossed the finish line side-by-side, with just 0.026 of a second between them! Dhruv Mohite secured second, while Chatterjee had to settle for third.
Championship winner Manav Sharma took the win in the Junior Max class ahead of Chirag Ghorpade and third place Jonathan Kuriakose
After lunch, the final race of the Micro Max class was underway. Defending champion Shahan Ali started from pole but was overtaken by a very quick Ruhaan Alva who went on to claim the victory. Arjun Nair came home to take third behind Shahan. Shahan may have lost the race, but he claimed the title with a well-deserved 434 points in what will be his last season in the Micro Max class. Ruhaan Alva, with a tally of 409 came in second. Just one point ahead of Arjun Nair who was second in the championship standings after the fourth round.
In the final race of the Junior Max class, championship leader Manav Sharma led the race from Jonathan Kuriakose and Chirag Ghorpade. Ghorpade and Kuriakose switched positions a few laps into the race with then building a gap from the latter. Mira Erda made a stonking start, having retired from the pre-final race, she started from dead last. Within a couple of laps, she was up into fourth position. At the end, Sharma won the race ahead of Ghorpade and Kuriakose. He also won the championship, with 423 points, 20 points ahead of Yash Aradhya of Meco Racing, who finished last in the race as a result of a ten-place penalty. Coming in third in the championship standings was Chirag Ghorpade with 399 points.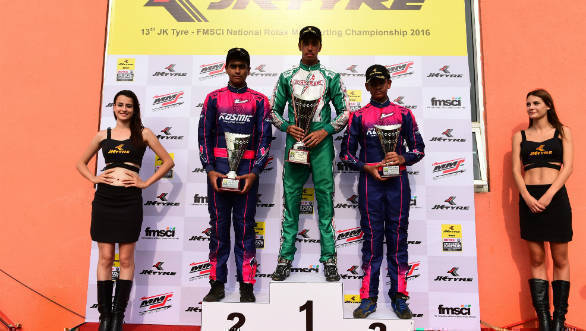 Championship winner Ricky Donison took the race win in the Senior Max category, ahead of brothers Nayan and Mrinal Chatterjee
All eyes were on the final race of the Senior Class. With Ricky Donison starting on pole, he had a rather lonely race. Playing it safe and steadily building up the gap, right from lap one. Nayan Chatterjee overtook Vishnu Prasad for second, before building a healthy lead himself. Vishnu Prasad and Dhruv Mohite found themselves in the fight for third, getting too close for comfort on many occasions. They eventually touched with Mohite's kart launching into the air and almost on its head. Vishnu and Dhruv were both able to recover and finish the race, losing places to Mrinal Chatterjee of Meco Racing. In the end, it was Ricky Donison who took the win, with a 5.791 second lead over Nayan Chatterjee. Who in turn had a 23.359 second lead over younger brother Mrinal who came home to take third. Ultimately making Vishnu and Dhruv settle for fourth and fifth.
Donision took a well-deserved win and the championship with a very respectable 413 points, five points ahead of Vishnu Prasad. While Nayan Chatterjee took third with 397 points. This will be the last season in the Micro Max class for champion Shahan Ali Mohsin. It will also be the last for Ricky Donision, who makes the switch to single-seater racing in the United States, having signed with Cape Motorsport in the USF 2000 series.