Italian F4: Kush Maini moves into the lead of the rookie championship standings
Kush Maini's debut season of car racing is certainly going well. While the Indian driver, who has just made the switch from karting to racing Formula cars, already managed to score a rookie class podium in Race 3 of the first round of the Italian Formula 4 Championship, things were better at Round 2. Maini managed a rookie podium finish in all three races at the second round of the championship at Adria. This puts him at the head of the rookie drivers' standings, with a total of 91 points.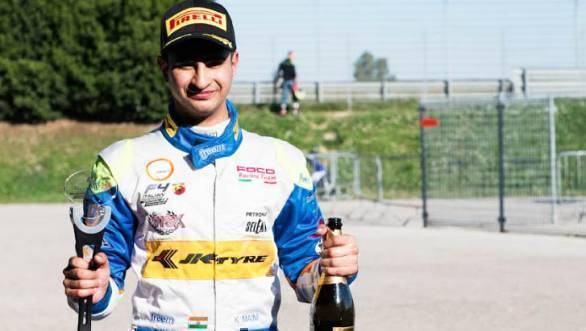 Kush Maini now heads the rookie classification of the Italian F4 championship after two rounds
It looked to be a good weekend for Maini from the very first practice session. He finished P1 third and finished P2 sixth. His competitive performance put him in Group 1 for qualifying, where he took fifth place. This meant he was to be in Group A for two races.
The first race was between Group A and B drivers, a 25-minute session that was mostly processional. Kush started the race eighth overall. With 10 minutes left in the race, he managed to make a move to take seventh overall. This put him second in the rookie category.
In the second race, Kush started seventh overall. While he was initially classified just outside the rookie podium, when another driver was handed a penalty, it pushed Maini up the order. This meant he was classified third in the rookie class, and sixth overall.
The final race saw Kush hold onto his tenth place starting position all through, with the young driver managing a second place on the rookie podium. He ended the weekend with a total points haul of 51, which gives him a 91 points after two rounds. This means that Kush is now at the head of the rookie championship standings.
After the races Kush said, "This has been a wonderful weekend because of consecutive podiums through good race strategy. It's a long season and I didn't want to do too much by trying to overtake too early. Topping the driver's championship is the icing on the cake that is three successive rookie podium finishes."
The next round of the Italian F4 championship will take place between 27 and 29 May, 2016.