IRC Rally of Maharashtra: Amittrajit Ghosh leads at the end of Day 1
The 2014 Indian Rally Championship has been something of a thriller so far. While it was Mahindra Adventure's Gaurav Gill, co-driven by Musa Sherif, and JCT Rallying's Samir Thapar, co-driven by GS Mann, who traded stage victories, the end of the day's rallying sees Amittrajit Ghosh leading the Rally of Maharashtra. Gill, the reigning APRC champion, had a spot of bad luck when his Mahindra SuperXUV developed a problem with the rear end needing some amount of work before the car could be let out of the service park. This 10 minute delay resulted in Gill's team-mate and Mahindra Adventure's newest recruit, Amittrajit Ghosh heading to the top of the timing sheets by the end of the first day's running.
Samir Thapar won three stages of six
Gill lost time at the service park and is second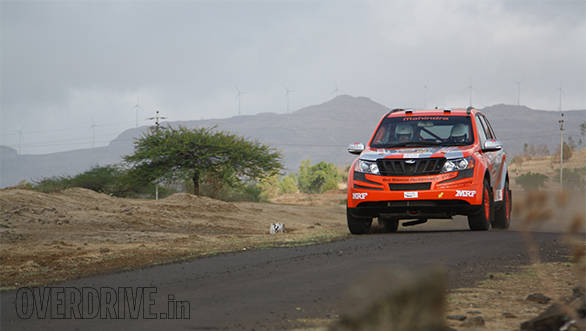 Ghosh is leading at the end of Day 1
Going into the first Special Stage on the Saturday of the rally, the brief for the Mahindra drivers seemed pretty straightforward. They needed to keep their heads down, foot planted firmly on the throttle, and ensure they set the fastest times possible. The goal was to ensure that they didn't let Samir Thapar in his Mitsubishi Evo X to get the better of them in terms of time. After all, Thapar had managed to lead the rally after the SSS held at the Dadasaheb Phalke Smarak the previous day. But Gill managed to get his XUV to do exactly what he wanted it to at the Alpha Stage of Manhere, setting the fastest time of 9 minutes and 56 seconds at SS2. This was four seconds ahead of Ghosh, while Thapar set the third fastest time of the stage.
Gill continued to set pace in the rally over the course of SS3 as well, flying to the top of the timing sheets at the Windmill Stage. Amittrajit Ghosh once again set the second-fastest time, while Thapar and Mann only managed to set the fourteenth fastest time. Third spot on the timing charts for SS3 went to Byram Godrej in his Volkswagen Polo.
The next two stage wins went to Thapar and his Evo, with Gaurav Gill second and Ghosh third in each of those stages. Gill then won SS6, while Thapar took the win in SS7, which means each driver won three stages each on the first full day of rallying.
Overall, at the end of the day, it was Ghosh, whose consistency over the course of the first day put him on top with a total time of 59.08. This, even as the driver is slowly coming to terms with the drastic difference in the SuperXUV that he pilots this year, as compared to the Mitsubishi Cedia that he has been used to driving over the last seven years of his career.
The three stages tomorrow will decide who wins the first round of the Indian Rally Championship. We'll keep you updated.
Rally of Maharashtra Day 1: Unofficial Classification for IRC
1. Amittrajit Ghosh/Ashwin Naik 00:59:08.0
2. Gaurav Gill/Musa Sherif 01:00:00.0
3. Byram Godrej/Somayya AG 01:01:44.0
4. Hrishikesh Thackersey/Ninad Mirajgaonkar 01:02:08.0
5. Samir Thapar/Gurinder Mann 01:02:13.0
6. Sirish Chandran/Nikhil Pai 01:02:29.0
7. Sunny Sidhu/PVS Murthy 01:02:31.0
8. Rahul Kantharaj/Vivek Bhatt 01:02:45.0
Price (Ex-Delhi)
Starts Rs 6.17 Lakhs