IOMTT 2017: Ben and Tom Birchall win opening Sidecar TT
It was a fine fifth victory at the Isle of Man TT, for brothers Ben and Tom Birchall, who won the opening sidecar race at the Isle of Man. The two set a lap record on their way to the win, too, clocking a speed of 117.119mph, that helped them finish 25.669 seconds ahead of second-placed duo - John Holden and Lee Cain. Third place went to Dave Molyneux and Daniel Sayle who were a further 18.717 seconds behind.
Ben Birchall/Tom Birchall (LCR/IEG Racing) at the Creg ny Baa during the Sure Sidecar TT Race. (PICTURE BY DAVE KNEEN/PACEMAKER PRESS)
If you thought that the speed the magnificent Birchall brothers had clocked was something to be astounded by, wait till you hear this. The pair of them could have gone faster, had it not been for the fact that it was very wet at the top of the mountain, which is why they didn't want to risk anything.
While the pair led the second-placed duo by 12.124 seconds after the first lap, they steadily built their lead over the course of the race. On lap 2, they were already close to 25 seconds ahead, and it was on this lap that they managed to set the fastest ever lap on the Snaefell Mountain Course for a sidecar.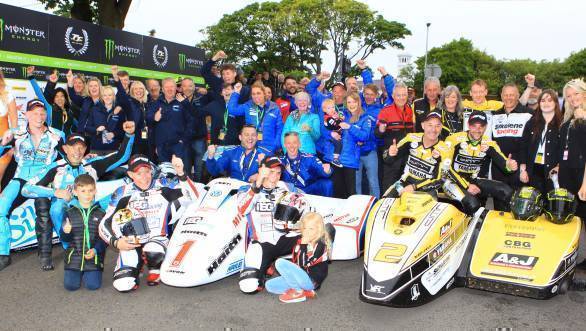 The Birchall brothers celebrate victory in the first Sidecar TT race of the 2017 IOMTT, flanked by second placed duo Holden and Cain and third-placed Molyneux and Sayle
Third-placed Molyneux, who was competing in his 50th TT, took his 30th IOMTT podium, which is quite an accomplishment.
Fourth place went to Alan Founds and Jake Lowther, fifth place went to Tim Reeves and Mark Wilkes, while Peter Founds and Jevan Walmsley finished sixth.