Interview: Sherco-TVS Rally's Harith Noah on his journey leading up to the Dakar 2020
It's nearly that time of year when motorsport athletes, new and old, put on their bravest faces to take on the toughest endurance race in the world, the Dakar. Being held in Saudi Arabia for the first time, with the inclusion of a few other firsts - a switch to colour-coded roadbooks - will level the playing field quite a bit, with everyone having access to what's thought to be the same quality of navigation information, while the decision to hand out said roadbooks to competitors on the day of the stage, instead of a day prior, should once again help newer entrants to the world of navigation and cross-country rallying. Such as India's very own Harith Noah, racing the Dakar for the very first time, with Sherco-TVS Rally. We caught up with him to understand what has brought him to the precipice of the world's most formidable race.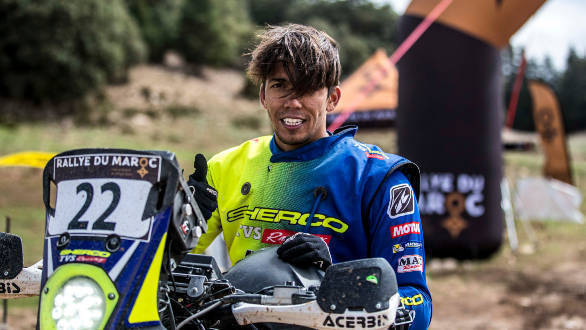 OVERDRIVE: Where did the fascination with speed start? And at what point did you tell yourself this is what you wanted to be doing professionally?
Harith Noah: I actually started watching the Dakar way before, when I was about six years old or so. My father used to bring me cassettes of the Dakar. At that point, I liked cars more. At the back of my mind, I wanted to be a car racer. But I never took it seriously. I mean, I just liked watching car races. And I always thought I could start racing only when I was 18, like you needed a license to race. But there was a local race happening down in the paddy fields near my house. And I had just got a motorcycle for my 16th birthday, an old two-stroke. It was my first motorcycle, and the first time I'd ever ridden one. So I watched the others train every day, just a week before the race. And I really liked what they were doing. (Laughs) I was also sort of into like dust and dirt, I mean I used to go jump in the dirt. So I took part in the beginner's class, and came dead last. And after that I knew I wanted to do it more.
OD: How did the TVS association come around? 
HN: Well, after that first race in 2009, I took part in the national super cross championship in 2011. And this was while I was still studying. I was in the privateer class, and after three-four rounds I was in the points lead. And that's when it kind of kicked in that I could win this. And my dad told me, 'If you really want to do this, you've got to give it a 100 per cent.' And that's when I, you know, trained a little harder, pushed a little harder and I ended up winning the championship. During that off-season, between 2011-2012, I got a call from the TVS Racing manager, asking if I wanted to ride for them. I think the answer was quite obvious!
OD: And if you weren't riding motorcycles professionally, what would you see yourself doing?
HN: Umm, I don't know. Probably be doing some sort of sport. I'm also a lot into the fitness stuff, so maybe something with fitness. For sure, I would've been physically active.
OD: What's the change in thinking that's needed to make the switch from supercross where it's flat out, to a rallycross format, where some amount of self preservation is needed? 
HN: Basically, supercross the time duration is very less, like under 10 minutes in India. Like an all out sprint. But a rally is like an ultra marathon. Sure, the intensity is lesser but of course for a much longer duration - like you're running lower heart rates, but again sustained for long. Fitness wise you train differently. You diet different (sic). On the bike too, you have to ride it different, and you've got be good in a lot of aspects. Not to mention the mental aspect of navigating.
OD: What's the biggest difference in riding style coming from an enduro bike to a rally bike?
HN: The rally bike is bigger, heavier, so everything is a little slower in terms of reactions. Even though the rally bike is much, much faster than the enduro, though it's smaller. Like, you'll be training on the enduro for a long time, and then you jump on the rally bike and it hits you. On the rally bike it takes longer for the bike to slow down, so you have to respect it a little bit more. It's less playful in a way, you have to plan things a little more. With an enduro bike, you can do a lot more last minute stuff.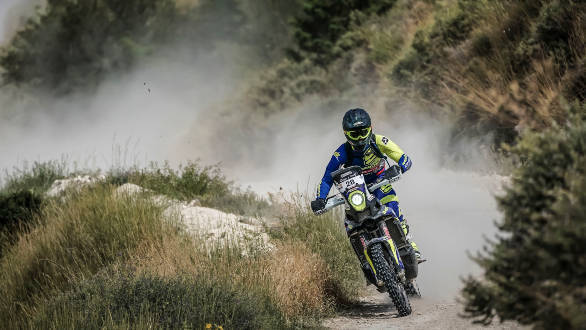 OD: What do you like most about the TVS 450?
HN: Everything! So, the handlebar position is same as on my enduro bike, to try to make the difference as minimal as possible. Even in terms of suspension etc. The setup is tough, because it's a wide variety of terrain. It's a machine and it can't do everything perfectly. It's a compromise between safety and handling. I don't like the bike to be set up too soft. My teammates helped a lot here, and give me a lot of feedback. My setup is very different compared to theirs. For example, we had to change spring rates because I'm lighter. I take a lot of info from Mika (Michael Metge), since he's the closest to my weight, and he has a lot of experience, including in dialling in the bike.
OD: What's the toughest part of dealing with an injury, apart from the physical pain of course?
HN: Pain isn't nice obviously. Most of the times, it doesn't last too long. You know, you got to the hospital, they pump you full of painkillers and stuff, so it's all good. It's after that when you realise you're going to be out for a while. It's mentally tough more than anything. I just try and thing about it like, 'It's happened now, nothing I can do about it.' Your mind tries to think about all things you could've done, but it doesn't change anything. I try to think forward, and think of all things I can do to get back on the bike. Last few months were tough because of the ACL (anterior cruciate ligament) surgery in the beginning of the year, and then I broke my collarbone recently while testing/training in Morocco. Because I had broken it before, I immediately knew I'd broken it. But I got the surgery done, and now I'm 100 per cent.
OD: Most other riders who have done international cross-country rallies have done something like the Raid first. Was it difficult to go straight into the Moroccan rally and racing on soft sand without that experience?
HN: I don't think of it as a disadvantage. I did a rally in 2018, the India Baja, which had a navigation aspect. We decided as a team to go Morocco.
OD: Now that you've had the experience of living in the desert during Merzouga, what learning from there do you think will help the most for the Dakar? 
HN: I learnt a lot during that race, and the last few weeks of training. What I realised over these sessions and also the race, is that I kind of had to slow down my pace, so that I can ride with confidence. But in a way it also makes me faster overall. If I try to push myself, like go faster, I tend to make small mistakes. And those small mistakes tend to add up. So now I have a speed where I'm not too slow, but fast enough with minimal mistakes. Especially coming from supercross. Especially in the Morocco rally when someone overtook me, and I wanted to pass him again. That's actually not what you should be doing, you shouldn't get irritated with the situation and you have to stay calm. The small things add up. You have to try to stay on the ground and ride at a speed where you know you can manage.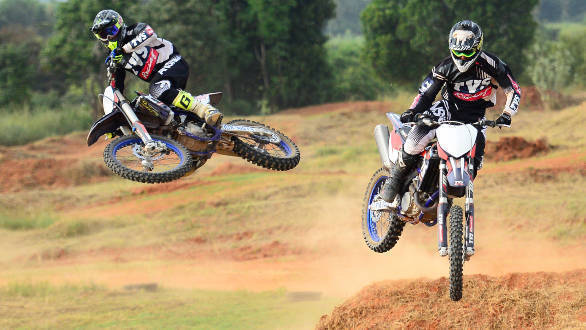 OD: What kind of advice have friends like KP Aravind and CS Santosh given you, on your first Dakar?
HN: So what KP told me about Dakar is to conserve energy for second week. Most people make mistakes, and finish their energy towards the second week. I ride with CS every now and then. And his main advice, was that the finish part of it is very important, obviously. So, basically, to ride in your zone, and not go over it.
OD: What additional training does one need when stepping up to a rally as intimidating as the Dakar? 
HN: The fitness is pretty much the same. Only difference is the weeks you spend on the bike. I mean, the hours on the bike everyday are kind of the same, but the length of the Dakar makes all the difference. Dakar being longer, you have much more organisation. Time management is very important. You have to ride, arrange your stuff for the next day. You got to keep everything in place. Me and Mika, we arranged boxes for our stuff. Nutrition is important. Got packets of food for each day. We do breakfast before we start. And for the day, I've got water, mixed with electrolytes, carbs, protein, in my CamelBak, along with three energy bars, and one protein bar in my jacket.
OD: With changes in the Dakar bringing it closer to what was seen in the Moroccan rally, do you think it'll make navigating easier for new entrants to the Dakar, considering there's less unlearning to do?
HN: Earlier the roadbook was given the day before, but you had to spend 3-4 hours everyday to make your notes and highlight. Now, it's same day. So it makes the playing field a little even. Roadbook is going to be exactly like it was in Morocco, they have a protocol for it. For example, deviations are marked as blue arrows, and caution is red and so on.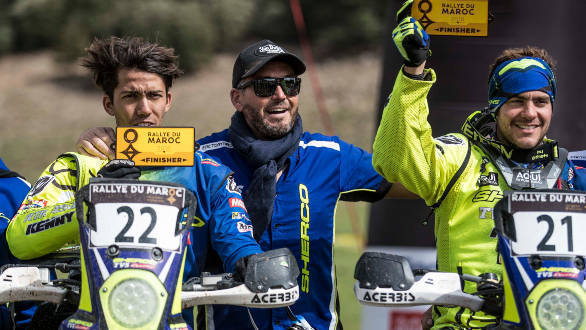 OD: What about the Dakar experience are you looking forward to the most?
HN: The race and the feeling you get everyday when you finish a stage. That feeling is definitely going to be very good!