Interview: Lexus India's Akitoshi Takemura on their India-centric plans
We recently had a chat with Akitoshi Takemura, senior VP of Lexus India. Here's what he has to say about the philosophy of luxury cars and how he has planned to implement that in India.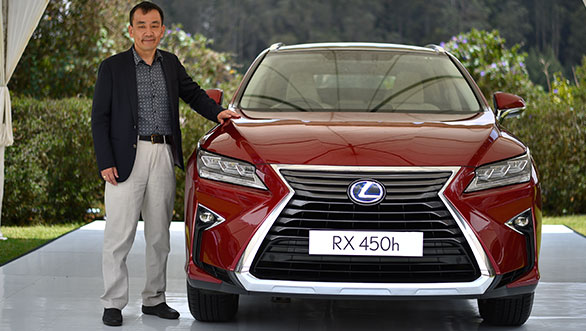 What made you wait so long to enter the Indian market?
In 2010, there was no CBU/import tax duty change as per our expectation. That made us delay the introduction. After that we did our research and found that the number of Indian High Network Individuals or HNI has gone up. We also found out that a lot of our potential customers have an understanding of the Lexus brand. Another thing is the increasing attention to environmental consciousness, and Lexus has hybrid cars which contribute to this. So we thought this is the right time
Lexus has a different philosophy as far as luxury cars go. How do you plan on implementing that here?
There is no shortcut. We have to develop our relationship managers and they should have the interactions with each customer – understanding them, their preferences - and make sure that they understand the preferences.
It is interesting how you have mentioned customer base and their experiences. What is the target customer in India and how different are they from the ones in Europe and USA?
We already have a customer base here. Our Lexus customers here have multiple cars and most of them either have an Innova Crysta or a Camry. This means we have a good approach where we can tell them to convert to a Lexus. This is our customer profile.
It's very early days for Lexus in India and you're setting up shop and service centres here. What is parent company Toyota's role in this?
Our customer touchpoint for Lexus will be different. However, for the backend or service, we will share it with Toyota. Of course, we will have exclusive service and waiting bay for Lexus customers. However, our strong service backup should ensure that Lexus customers will have a fantastic experience.
Hybrid is the key focus in your Indian operations.
Hybrid is the future and it is actually the practical electric vehicle. It is different from plug-in hybrid and you don't need to charge the car. It is simple. One of the most important thing is we are contributing to the Indian government's need to reduce CO2 emissions, crude oil import and air pollution. Difference between normal and hybrid engine is 50 per cent reduction in CO2 emissions.
You've begun your Indian operations with three cars - two SUVs and a sedan. Will this be the only portfolio you will have till you are established here or will there be more cars?
We've showcased the LS sedan at the brand launch. We're studying the market. Right now, we are busy in delivering the customers their vehicles. As of now that is the focus and for the time being, we will concentrate on these three cars.