India-bound 2018 BMW i8 roadster: Five things that we like and five we don't
The BMW i8 roadster is the open top version of the BMW i8 coupe, the world's highest selling plug-in-hybrid sportscar. This sportscar is a moving showpiece of all of BMW's futuristic and advanced technology. While words like futuristic, cutting edge, etc, are sometimes associated with dull and boring, the BMW i8 roadster is anything but that. Its got sensational styling and impressive performance and it also provides a window to the wondrous world of future sporting mobility.
Likes
1) Styling:
The entire body design with long and layered panels that stick out and appear to float, and the stunning butterfly (gullwing) doors that open upwards rather than outwards, make this a sensational looking car. Normally, when you cut the top-off, the body and chassis require a lot of strengthening to maintain torsional rigidity. But the BMW i8's carbon fibre-reinforced plastic (CFRP) passenger compartment or tub, required minimum reinforcement, as it was already so strong. So instead of concentrating all their energies on stiffness, safety, etc, the designers could also focus on lowering the roofline and making the already flat silhouette even flatter and giving the i8 a 'faster roofline'.
2) Silent electric top:
The focal point of the design of course was the folding soft top and the designers brief was to make it "Silent, light, electric, fast, operable while driving, robust and stylish". All of which they have managed to achieve. The all-season fabric soft top with additional acoustic insulation can be opened or closed by an electric drive system in 15 seconds at speeds of up to 50kmph. This top operates in the hushed manner quite similiar to the way the BMW i8 roadster moves when it's only powered by the electric motor. This barely audible top folds in a Z-shape and is stored vertically requiring minimum space.
3) Lightweight: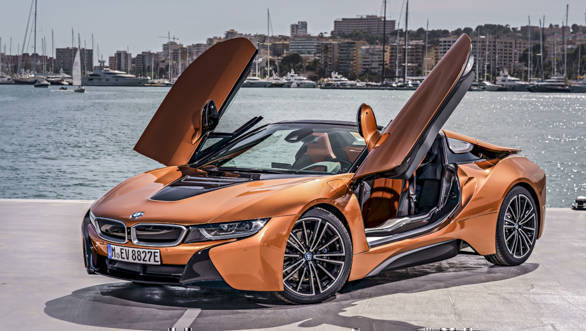 The BMW i8's carbon fibre-reinforced plastic (CFRP) passenger compartment or tub uses highly advanced materials that are both light and strong. Adding the soft top has marginally increased the weight by 60 kgs. This is really impressive for a convertible, because normally they are a whole lot heavier than their coupe cousins. Yes the roadster weighs all of 1,595 kgs, which is just 60 kgs more than the coupe.
4) Converting to convertible:
What's great too is how well the engineers have managed to limit any flex in the roof or any sort of buffeting and noise, even at high speeds. The soft top which has been nicely soundproofed and made quite stiff, actually feels almost like a hard top. But with the roof dropped down you not only get direct sunlight and a view of the sky above, the i8 roadster also looks lot sexier.
5) Additional power and increased electrical range: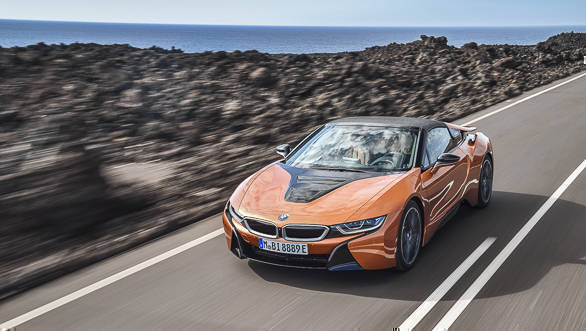 The BMW i8 roadster is driven by an electric motor and 3-cylinder petrol engine that work in concurrence. The cell and gross energy capacity of the lithium-ion-high-voltage battery has been raised and its peak performance has increased by 12 PS to 143 PS and it generates 250 Nm of torque. The all electric range has also increased to 53 kms and the motor is capable of taking the BMW i8 roadster to speeds of up to 120 kmph in eDrive mode.
The 1499 cc turbo charged petrol engine delivers 231 PS and 320 Nm of torque. The electric motor drives the front wheels and the petrol engine the rear ones, and the i8 roadster also comes with BMW's hybrid specific all-wheel drive. With both the electric motor and petrol engine working in tandem, the combined power output is 374 PS with the BMW i8 roadster getting from 0 to 100 kmph in 4.6 seconds. The top speed is electronically limited to 250 kmph and the combined fuel efficiency is said to be a staggering 50kmpl!
Dislikes
1) Ingress and egress: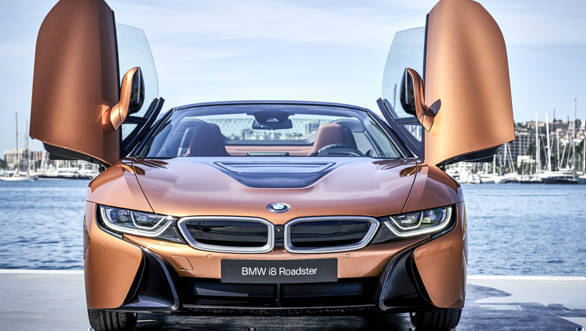 While the butterfly or scissor doors are dazzling, they make entry and exit quite difficult with you having to bend and contour your body to fit into the limited space available. It's not enjoyable or desirable, and while the BMW i8 will surely make a dramatic entry, you will certainly not be able to step out in an equally flattering manner.
2) Engine acoustics:
A sports car, especially a convertible is a lot about great sound. You expect it to sound sporty and with the top down, you kind of anticipate the sonorous note of a powerful engine to echo and sound even better. But this is something missing in the BMW i8 roadster. The electric motor is silent to the point of being intangible and while the petrol engine tries hard to sound like a rock star, it comes across as an amateur wanting to become an 'Indian Idol'. While the engineers have worked hard to make the small capacity petrol engine sound sporty, I think it's really an engine note that needs to grow on you.
3) Stealthy approach: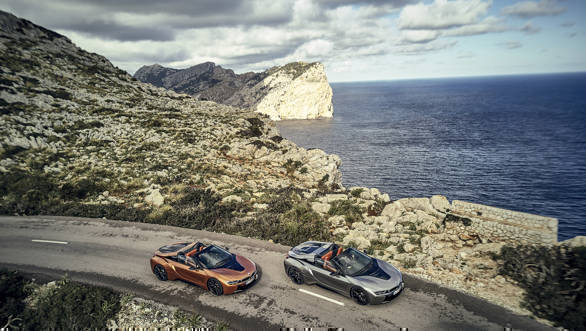 Driven in pure electric mode, the BMW i8 roadster is like a stealth machine that creeps in and shocks when sighted. Most other road users are taken by surprise and don't like getting 'shocked' by the BMW i8 roadster's 'silent motion' ways.
4) A-pillars that restrict vision:
The thick A-pillars seriously hamper the view around turns and one has to be very careful while driving on twisty and narrow roads. A sporty or fast car is best enjoyed when its pushed hard around curves, but because of the A-pillars that obstruct vision, one ends up being tense and tentative.
5) India not being suitable for convertibles and high cost of hybrids:
Given our heat and dust and polluted air, our country is not the best place for open top motoring. Since our government also has a hybrid unfriendly policy, the BMW i8 roadster will not get any tax breaks and should cost around 2.8 crores when launched here later this year. Frankly, all this and the fact that it still does not sound like a thoroughbred sports car, somewhat limits its allure.
Also see,
2018 BMW i8 Roadster first drive review
Price (Ex-Delhi)
Starts Rs 2.62 Crore