Independence Quattro Drive 2014: The Tricolour by the lake that changes colour
After camping through the night by its side, we woke up to the beautiful Pangong Tso lake situated at 14,000 feet. This salty lake happens to be close to the Indo-Chinese border. Around 40km of this lake lies within India while the rest extends to China. The readers with us were so enamoured with the beauty of the lake - it changes colour every few minutes.
We too fell in love with the lake and a decision was taken to hoist our national flag at Pangong Tso itself. Amid the soul-stirring strains of our national anthem, the Tricolour was hoisted.  In fact, a gentleman from Ingolstadt passing by, joined us in saluting the national flag.
The Audis standing in the backdrop had finally served the purpose - they'd ferried us all the way here in comfort despite the terrain and the weather and the many challenges the elements threw at us and the cars.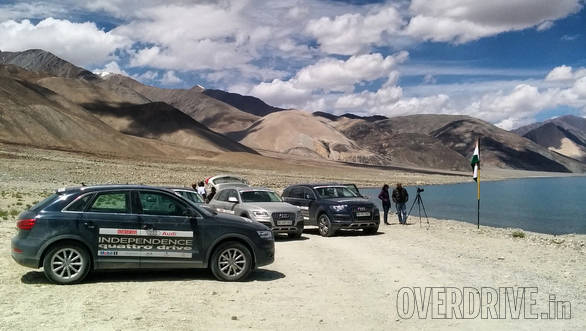 Post the flag hoisting, we made our way to Leh through the small town of Sakti. Yet again, the drive was smooth and the Audis brought us to Leh by around 7:00 pm, without incident.
It's been a thrilling journey this far and we can hardly wait for the next edition of IQD  already.
More on the Independence Quattro Drive 2014
Independence Quattro Drive 2014: On the road to Leh
.