Image gallery: Two days of rallying for the Hero MotoSports team at Dakar 2019
It's been two days of intense rallying for the Hero MotoSports Team Rally outfit at the 2019 Dakar. Along the way, the team has seen some solid performances from all three riders - Oriol Mena, CS Santosh, and Joaquim Rodrigues on Stage 1 of the rally. And the team has also seen their riders overcome technical glitches on Stage 2 to still occupy strong positions in the timing sheets. Here's a look at their Dakar 2019 thus far in images.
The calm before the storm for Hero MotoSports riders CS Santosh, Oriol Mena and Joaquim Rodrigues (Photo: Ishaan Bhataiya / Red Bull Content Pool)
Focus is key for a rally as gruelling as the Dakar, and Santosh not only works out in the gym, but uses several mind exercises to keep his brain razor sharp
CS Santosh tackles the dunes from Lima to Pisco on Stage 1 of Dakar 2019
Santosh had a strong performance during Stage 1 of the 2019 Dakar, finishing 20th in the Moto category
Oriol Mena, the team's rookie wonder of 2018, is currently the highest placed Hero rider in the Moto class, 16th overall
For JRod, finishing the first stage was key, in order to put the horrific accident of 2018 behind him. He is currently ranked 32nd overall after two stages of rallying
CS Santosh is seen during the scrutiny at the Dakar Rally in Lima, Peru on January 5, 2019
This is Santosh's fifth attempt at the Dakar, and he has taken part in the rally every single year since 2015. He has only failed to finish the rally once, in 2016.
CS Santosh seen here looking at team-mate JRod. Both riders have worked closely with each other since the Hero MotoSports Team Rally outfit was formed
Look closely at Santosh's helmet and riding gear. Other than prominent Hero branding, you'll notice Sidvin (a mining group that has supported him for the last few years) as well as a Big Rock dirt park sticker - Santosh's own off road training camp
CS Santosh poses for a portrait during the scrutiny for Dakar 2019
Santosh Chunchunguppe Shivashankar of Hero Motorsports Team Rally pictured here tackling the terrain during Stage 1 of the 2019 Dakar Rally
CS Santosh tackling the dunes from Pisco to San Juan de Marcona during Stage 2 of the 2019 Dakar Rally
Oriol Mena ended his maiden attempt at the Dakar Rally seventh overall in the Moto class, allowing him to take home the 2018 rookie title
Santosh pictured here semi-airborne and looking, potentially, at another competitor during Stage 1 of the rally...
... or maybe, just maybe...
... showboating for the camera? Hard to tell! But we'll ask him once he's back from the Dakar 2019!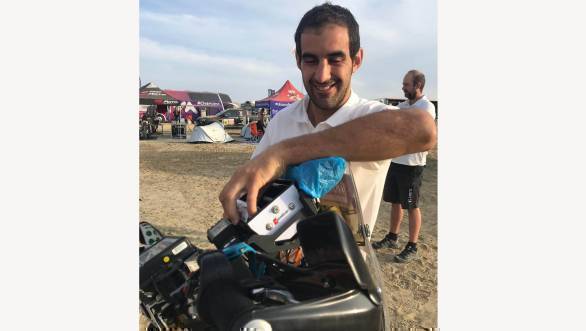 Oriol Mena fitting the road book onto his Hero 450RR ahead of the start of Stage 2
JRod in conversation with his mechanic Filipe at the start of Stage 2 of the 2019 Dakar
All set and ready to go for JRod - here he is before taking the start of Stage 2
Big thumbs up to the team from CS Santosh before taking the start of Stage 2 at Dakar 2019
Here, CS Santosh is pictured with Hero MotoSports Team Manager Wolfgang Fischer before Stage 2