Image gallery: Lamborghini Miura
Who would have thought that a man who built tractors for a living would go on to build an iconic sportscar that would revolutionise the sports car industry forever! Just three years after its inception, Italian carmaker Automobili Lamborghini launched the Miura at the 1966 Geneva Motor Show. Apart from its the jaw-dropping looks, it was the first production car to have a V12 engine mounted in the middle, and it was also the world's fastest production car in the world at the time of its debut! 50 years have passed since then, and in terms of looks at least, the Miura easily stands the test of time. Lamborghini celebrated the 50th anniversary of Miura in a Hollywood-inspired fashion. It sent two Miuras from its museum to the Great St. Bernard Pass, located at the heart of the Italian Alps to recreate the opening sequence of the 1969 cult film, "The Italian Job". Feast your eyes on this glorious raging bull below.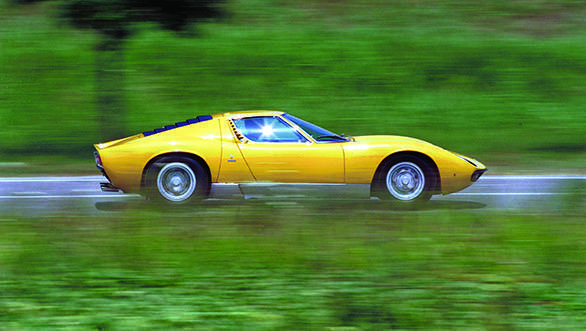 This side profile will forever stand the test of time
The Miura came with louvres on the engine cover - the first production car to have them
Good old analogue dials with a gated manual box are a treat to behold
Overhead switches make the driver feel like he's taking his F-16 out for grocery shopping
The 4.0-litre V12 was mounted transversely to help keep the engine bay compact
Just look at that hinged body work folding away and revealing the Miura's beautiful underpinnings
Air-intakes in louvre-form. Thank you, Marcelo Gandini!
One of the two Miuras driven by Lamborghini on the Great St. Bernard Pass to celebrate its 50th anniversary
Old meets new during the celebrations