Image gallery: 2016 Suzuki Gixxercup race bike
We recently had the chance to ride the 2016 Suzuki Gixxer Cup bike at a special media race event held at the Kari Motor Speedway in Coimbatore. This year will be the second season of the Gixxer Cup, and the bike returns largely the same as last year with the addition of a new rear disc brake and a front suspension brace. Like last year's bike, the Gixxer Cup racer features a free-flowing exhaust, carburettor rejetting and a larger front sprocket (up by one tooth). Suzuki claims the overall engine changes are minor with a power bump of perhaps 1PS over the stock bikes 14.8PS. The Gixxer runs a similar looking MRF tyre to the stock bike, but this one uses a softer compound and features a stiffer sidewall construction. The 2016 Gixxer Cup debuts this weekend at the Kari Motor Speedway. Until then, scroll down for more images.
The Gixxer Cup bike can confidently hold high lean angles, thanks to the sticky rubber
The race exhuast is smaller than stock and considerably louder
The addition of clip-on handlebars and higher-set footpegs makes this a more cramped bike for tall riders than its road-going sibling
Ready to race!
Checking out new rear disc brake and softer compound rubber
The race bike uses the stock seat but comes with a rear cowl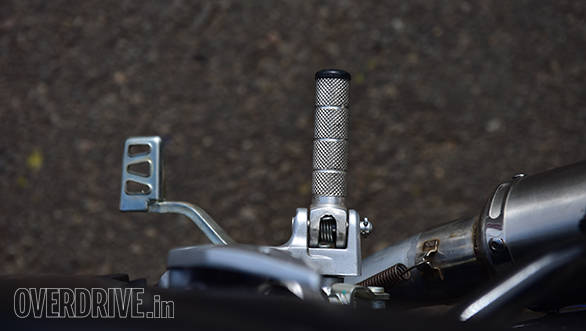 New rear sets provide much more ground clearance
Switchgear is the same but clip-ons are new
The small red 'S' signifies that this is a soft compound tyre
The Gixxer Cup bike is a great tool for novices to hone their riding/racing skills
Price (Ex-Delhi)
Starts Rs 1,11,871