IAA 2019: Bugatti Chiron Super Sport 300+ shown in production form
Bugatti recently made headlines for being the first carmaker to cross the 300mph mark in a production car when a modified Bugatti Chiron driven by Andy Wallace reached 304.773mph or 490.484kmph at the Volkswagen Group's Ehra-Lessien test track in Germany. The French carmaker has now introduced a 30-unit limited run of the Chiron built to this spec and called the Bugatti Chiron Super Sport 300+ to celebrate this feat. This is unofficially the fastest car in the world, a run in the opposite direction was also required for the Guinness World Record to recognise this feat.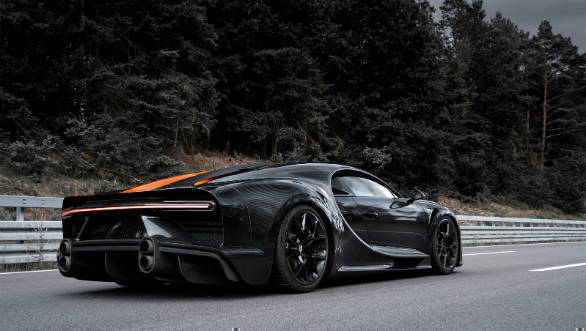 Significant changes have been made to the Chiron's bodywork to make it sustain these higher speeds. The most distinctive of these is the longer rear end which keeps air flowing over the car for longer and reduces lift. The tailpipe has also been redesigned so that the diffuser can work better and allow the wing to remain retracted even at top speed. Further, air curtains have been installed in the front to manage airflow better. The body itself is made of exposed black carbon fibre, as are the engine cover and wipers. The version is also differentiated by the Bugatti logo finished in silver and black enamel, alongside the black finished wheel and trim.
On the inside, there are LED puddle lamps with the Super Sport 300+ name inscribed. The interiors are finished in black carbon, leather and Alcantara with orange highlights and more contrasting Super Sport 300+ inscriptions.
Like in the Centodieci, the Chiron Super Sport 300+ makes power from the 8.0-litre quad-turbo W16 whose power has been upped by 100PS to 1,600PS. Deliveries will begin in mid-2021 at a starting price of EUR 3.5 million or Rs 27.8 crores before taxes and duties.