How will the new Mercedes-Benz E-Class be priced and positioned?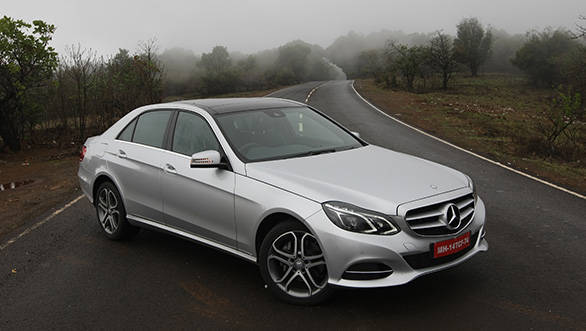 2013 Mercedes E250 CDI
This is the year Mercedes-Benz goes on the offensive in India, according to the company's MD & CEO Eberhard Kern. We've recently seen them launch the B-Class and the A-Class, two hatchbacks leading this charge. Now, however, Mercedes will be firing their most important salvo, the E-Class in just a few weeks time. There is a lot on offer in the new E-Class and the OVERDRIVE exclusive E-Class road test gives you all the details on what's new and what it does for you. But here is a look at what we think will be the pricing and position of the new Mercedes.
Mercedes is expected to launch two versions of the new E-Class. The top of the line, with all the bells and whistles, will be the E 250 CDI, which will be powered by a 2.1-litre diesel motor generating 204PS of max power and 500NM of peak torque. We expect this version to be priced at ? 58 lakh.
The entry-level variant will be the E 200 CGI. This will be the only petrol version available on the new E-Class and will be powered by a 1.8-litre, four cylinder engine. The engine develops a max power of 183PS and a peak torque of 285NM. We expect the E 200 CGI to be priced at ? 50 lakh.
To fill in the gap between the prices of these two models, Mercedes might also bring in the E 220 CDI. The 220 CDI uses the same engine as the 250 CDI but makes lesser power and torque – 170PS and 400NM, respectively. We expect the 220 CDI to be priced close to ? 55 lakh.
All versions are expected to be coupled to a 7-speed automatic to improve fuel economy rating on the new E compared to the car it will replace.
At launch, there will be no V6 engines in the form of the E 350 CDI or E 350 petrol. However, Mercedes might look at these options in the future. Mercedes doesn't even sell V6 engined versions of its current E-Class.
Going forward, we might see the introduction of the E Cabriolet and the E Coupe as well. Mercedes had introduced these models based on the current E-Class in India sometime back, but their limited demand meant that these were available only on order. Both these cars were powered by the 3.5l V6 engines. We also feel the new E Coupe and Cabriolet will find more takers this time round because the new styling direction for the E gives these cars a sportier and more aspirational aura.
Price (Ex-Delhi)
Starts Rs 63.6 Lakhs